Spend a day at the beach, get lost in the trails that venture into the lush forests, be amazed by volcanoes landscapes that come together as if out of a fantasy. Let us go over five unique facts about Tenerife, located in the Canary Islands archipelago.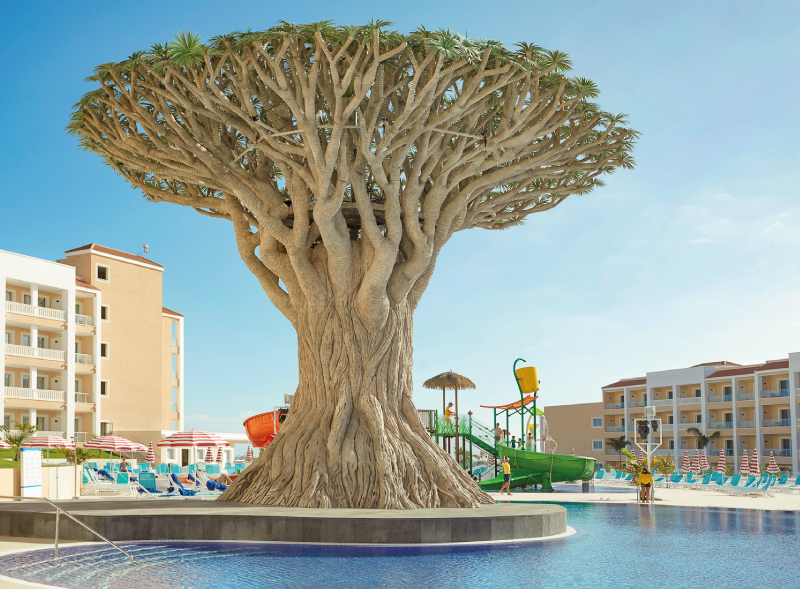 Teide, or Mount Teide, is a volcano on Tenerife in the Canary Islands, Spain. Its summit (at 3,715 m (12,188 ft) is the highest point in Spain and the highest point above sea level in the islands of the Atlantic. Some say that its shadow may just be the most imposing, being seen during sunrise and sunset.
The Draco at Bahia Principe Fantasia Tenerife is not one-of-a-kind. It is actually meant to mirror the Drago Milenario, called Drago de Icod de los Vinos. This tree belongs to the species Dracaena Draco and is also known as the dragon tree. This tree is the natural symbol of the island of Tenerife, together with the blue chaffinch bird.
According to Monumental Trees, Pino de las Dos Pernadas is one of the tallest trees of Spain. It can be found in Vilaflor, in Santa Cruz de Tenerife, relatively close to Pino Gordo, another tree of great height.
Cueva del Viento, or Wind Cave, is the largest lava tube system in Europe, and the sixth-largest in the world, behind a series of lava tubes in Hawaii. It is also considered the most complex volcanic tube in the world, due to its morphology of several levels and passages.
It was created by lava flows from Pico Viejo, next to Mount Teide. The cave is located in the town of Icod de Los Vinos in the north of the island. It extends more than 17 kilometers (11 mi) and contains three different levels of passageways, each full of geomorphological phenomena such as lava pits and terraces.
Tenerife is literally in the Moon. Montes Tenerife, or Tenerife Mount, is a range on the northern part of the Moon's near side. The formation consists of a few scattered ridges surrounded by the lunar mare. Individual peaks rise to heights of up to 2.4 km.
There you have five unique facts about Tenerife that make it just the perfect destination for a vacation straight from a fantasy novel. Be sure to tag your vacation posts on social media with #VacationAsYouAre, and don't forget to follow us on Instagram and Facebook.
Visit our Travel Talk section to read more fun travel articles or go over the Concierge Recommends articles to learn more about the attractions outside the resort.