If you are traveling to Bahia Principe Hotels & Resorts using your Privilege Club membership within the next fourteen days, it is most likely there is an invitation to begin the online pre check-in sitting in your inbox.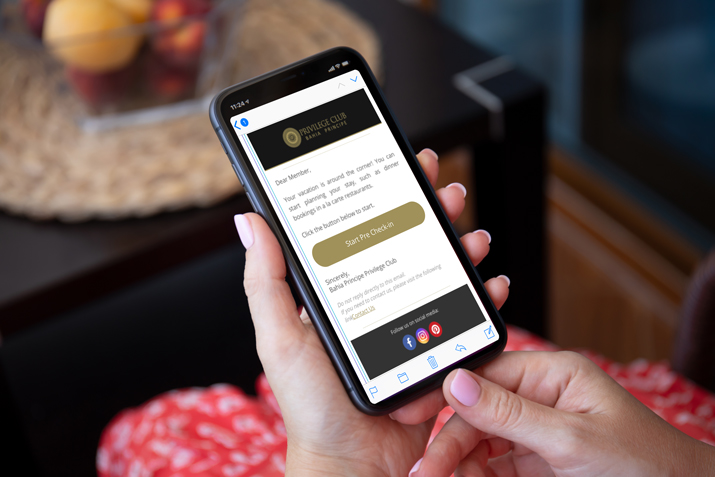 There are a number of things that we must take care of before going on vacation. A big part of it is making sure everything is in order at home while we enjoy a piña colada by the beach. And there are also particular steps that we can take to complement the much-deserved trip.
Amongst the benefits of completing the Privilege Club online Pre-Check-in is being able to provide the Privilege Concierge and the hotel the information they need to progress on your registration. If you have multiple reservations confirmed, each will require the completion of the form separately.
You will gain access to the hotel's available restaurants to arrange the a-la-carte dinner bookings for the guests in the reservation, for the date and hour of your preference. Booking Bahia Spa services is also possible in just a few clicks.
Additionally… it is very simple! Just look for the invitation in your inbox, which should arrive within the 14 days prior to the check-in date. You can also login and head to "My Reservations" through the right-side menu. Review all upcoming bookings to access the online form for all reservations which arrival date is within 14 days. At the Privilege Club we continue to evolve to enhance the vacation of all our beloved members. Stay tuned as the range of Club services continues to grow. Be sure to visit the Products & Services section for further reading on your favorite destination and how to get the most out of the membership.