For many Punta Cana is the ideal go-to destination to spend some well awarded time away from the daily routine and the congested cities. Beyond the resort facilities lies an array of activities full of adrenaline, fun and wonder. On one side you get Bavaro Beach, declared by UNESCO as one of the world's bests, along with all the activities and emotions that going to the beach entails; on the other side of the coin, you get to explore nearby attractions of sceneries that contrast with the blue hues of the ocean, such as the Anamuya Valley.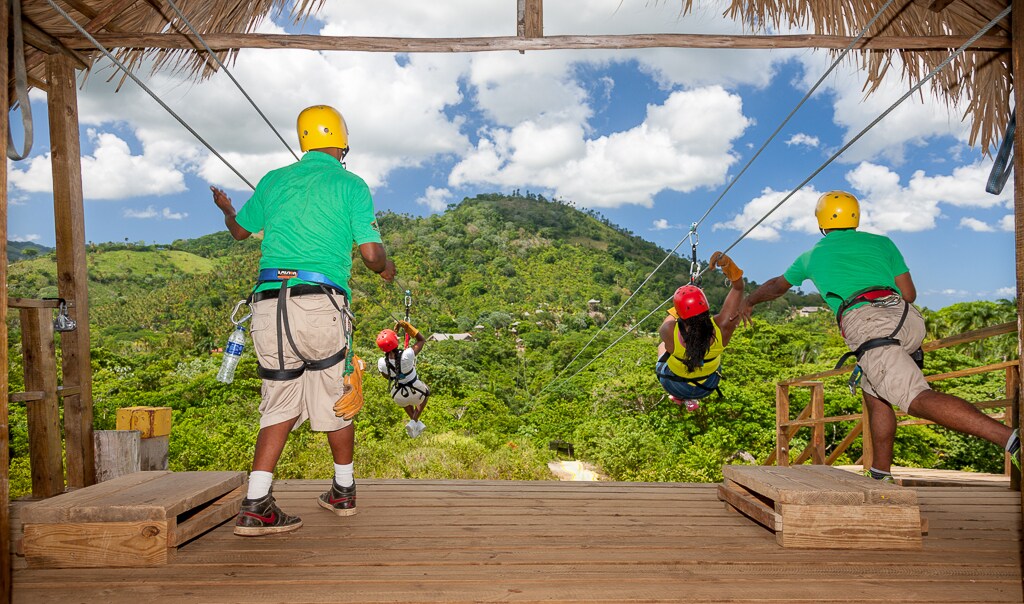 A day excursion can easily get you to this off-road adventure, and though the change of scenery may be drastic, it only takes a one-hour drive from Punta Cana. An unearthed paradise of lush green forests, ecological farms, and fresh springs, a spot to explore local flora and native wildlife. Should you sign up for the trekking once you reach the top of the hills you will have the opportunity to take in the breathtaking scenery and fantastic views of the Atlantic Ocean.
The most popular attraction of Anamuya is one designed for adrenaline junkies looking the discover a unique kind of fun: the very first Zip Line in the Dominican Republic and one of the longest.
Following a floral path, you will reach the first of the 18 platforms from where you will launch on an unforgettable adventure. Enjoy the beautiful landscapes while sliding down an 800-meter cable, going through treetops with confidence and in safety.
If you wish to learn more about zip lines, their origin and the popular options nearby Bahia Principe Hotels & Resorts, then take a look at our article "Zip Line Tour: Adrenaline & Beauty".
As you can see, Punta Cana is much more than beach and coconuts, although those have their own appeal. This corner on the east end of the Dominican Republic hosts unexplored spots that still remain off-the-beaten-path, popular attractions that have become a must-do during a visit to the destination, marine wildlife that will give you enough reasons to put the snorkel, protected islands with virgin beaches and natural reserves that await your exploration.
Visit the Concierge Recommendations section to read about other attractions near your favorite Bahia Principe hotel.