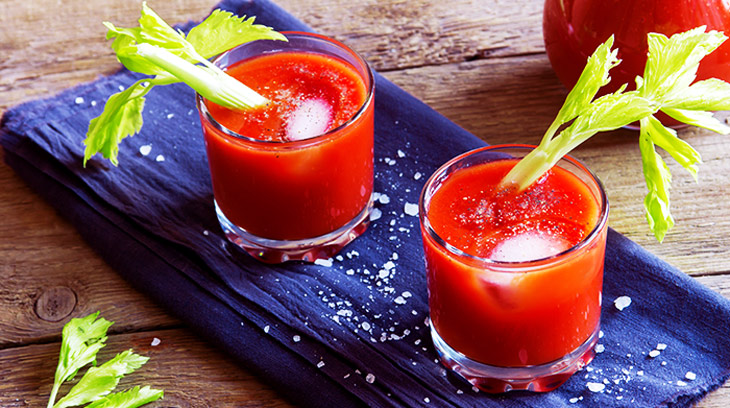 With the holiday season behind us it may be time to lift your spirits and snuff away any remaining drowsy effect, with a Bloody Mary.
Our featured fan-favorite Bloody Mary recipe targets towards adults, as guests indulge in its salty flavors to revitalize their mornings and get the most out of the day.
Skip the sugary drinks and try something different with a Bloody Mary –not to be confused with the popular Queen of England, this cocktail will refresh anyone, even those who feel skeptical about the flavor.
Ingredients (yields 6):
3 cups tomato juice
3 tablespoons lemon juice
1 tablespoon prepared horseradish
1 1⁄2 tablespoons Worcestershire sauce
1⁄4 teaspoon garlic powder
3⁄4 teaspoon Tabasco sauce
3⁄4 teaspoon celery salt
1⁄2 teaspoon coarse black pepper
1⁄3 cup pickle juice
1 ounce vodka, per drink
3 tablespoons lime juice
Directions:
Frist we prepare the Bloody Mary mix by blending the tomato juice, lemon juice, lime juice, horseradish, Worcestershire sauce, garlic powder, pickle juice, and hot sauce and process until smooth.
Vert the mist in a pitch and add celery salt and black pepper, to taste. For best results refrigerate for a minimum of two hours.
When ready to serve, fill each glass with ice. Add 1 ounce of vodka to each glass, then fill with the mix. Stir well, and garnish each glass with your favorite veggie, the most popular seen is the celery stick.
Did you know? This recipe is very similar to a Bloody Caesar or a Mexican Michelada, the first uses clam broth instead of simple tomato juice (Clamato) and the second trades the vodka for beer. So if you like salty cocktail then both are definitely recommended!