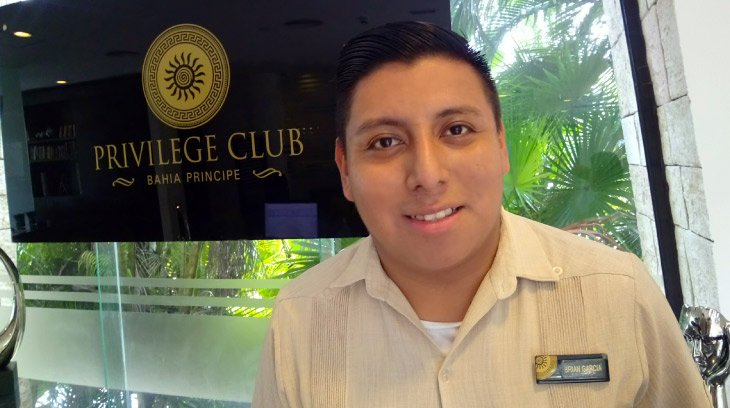 Meet Brian Garcia, born in Cancun, but whose body and soul have spent many years in a town in Riviera Maya.
Our brand ambassador's career began just over a year ago after he finished his studies. That's why he's one of our youngest members in the Privilege Concierge team in Riviera Maya.
If you had to choose one word to describe your experience at BPPC, what would it be? And why?
It would definitely be SATISFACTION. Without any doubt, being part of BPPC has changed me. I've learned so many new things. I've improved my interpersonal relationship skills and I've grown as a person, which gives me great satisfaction. And I know our members feel the same satisfaction when they stay here and even when they leave the hotel. Because we do everything possible to spoil all our guests equally. Consequently, they only take away good memories from their time in Riviera Maya.
How would you describe a typical day as a Privilege Concierge in Riviera Maya?
I have to admit that every day is different. However, when I'm on my way to work, I know there'll be fun, laughter and good vibes with my colleagues. We couldn't make our members happy without having this great friendship and a cheerful atmosphere. And if we need help, I know there'll always be someone prepared to lend me a hand. Sometimes we adopt members as part of the team. Because they usually come to the Privilege Lounge every day at the same time and always congratulate us on our work.
When members leave, they also hug and kiss us goodbye – those guests we expect to see again on their next holiday. All this is a reminder that when you're passionate about your work, it is always a unique experience.
Do you have a special anecdote that you remember about your Privilege Club experience?
One of my main goals is to choose the best rooms for our members.
I remember one time when two guests had requested a room on a top floor. However, there weren't any available, so I found a room that might be a pleasant surprise for them, even though it wasn't what they'd asked for. They were thrilled with the location overlooking the pool, just a few metres from the sea. The next day they came back to thank me for the gesture.
These members have returned three times. They came back once more together and then both separately with their families. Since then, they've asked for the same room or the same building and floor. We've managed to further improve their impression of the team and the Club every time they've visited us.
What would you say to encourage members to book their next holiday in Riviera Maya?
It would definitely be our natural environment. I'd invite them to soak up the abundant blue and green landscapes in the surrounding area. The cenotes (sinkholes) with their cold water and the jungle. They'll probably want to take photographs of our plants and wildlife. And even learn the names of animals they never imagined existed. I'm sure they'll find the fun and relaxation they're looking for as 'Mexico will always be a good bet'.
Let's talk about your trips. Do you know where you're going on your next holiday?
I would like to go abroad and visit some places in Europe. But instead I'm going to travel somewhere else in Mexico and discover the most popular tourist destinations. My next trip will be to the State of Hidalgo, which is famous for its caverns, mines, waterfalls and unique cuisine.
Read about other Brand Ambassadors.
For more information about the Privilege Club you can visit our official website.