We have gone over the benefits a single visit to the beach can provide, now imagine going a bit further and exploring the beauty of the immediate underwater scenery. Grab your swimming gear and get ready to learn how to tackle snorkeling like a pro and enjoy it even more.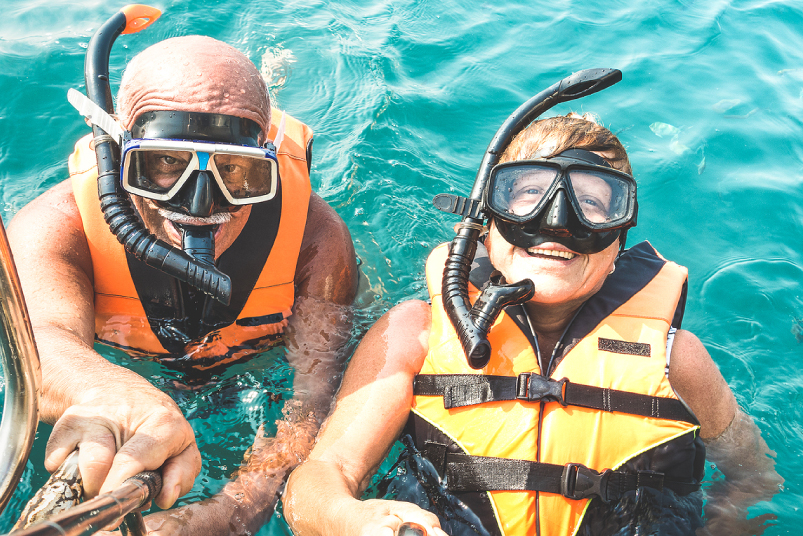 Although snorkeling is a very rewarding activity it is also often underrated. For many travelers visiting the tropics, the option to do it is presented as a complement to another activity or tour. But it can be so much more!
In order to make the most out of this promising adventure, some preparation is needed. A very important part of snorkeling is swimming, and it can be improved quickly at any nearby pool. When swimming, the better your kicking technique is, the more enjoyable your snorkeling experience will be. Build endurance in your legs and while they do the job, your eyes will be able to wander around, exploring the environment.
Get used to swimming with fins. Sure, we may love to be in the water and have a chance to look at the colorful fishes from up close, but swimming with fins is an entirely new experience for the legs as many more muscles are used. BE sure to bring a pair of fins to that nearby pool. Not getting used to them first may cause cramps if you go for a long swim.
The most important part of tackling snorkeling is to relax while doing it so. A day tour means hours of activity and swimming alone can take a lot on your body, even if you do not feel the impact. Therefore, conserving energy is a must. Do not try to go fast if it is not necessary. Using the arms is not really necessary and kicking hard is not recommended. Splashing water may even ruin your experience altogether as you may accidentally scare the fishes away.
So, conserve your energy, take deep and controlled breaths as you get used to the tube, and let the fins do the job with relaxed kicks while you enjoy the marine wildlife.
Only once you have the swimming and the breathing at an advanced level, you can start considering doing short dives while holding your breath, if it is something you wish to try. Just be sure to ditch the life vest first and to avoid descending while feeling exhausted. Head and torso go first followed by your legs. The breathing out also needs to be managed, starting when you reach the desire depth and letting air reach each part of the body slowly. The fins will eventually hit the water and propel you down, assisting you to a closer look at the fish or reef. This is the ideal moment to make use of a waterproof camera if you have one and make memories of your underwater adventures. Be sure to save air to go back up still relaxed and avoid hurrying. Practice your short dives and soon you will be able to last longer.
Insiders Pro Tips:
Black and blue fins are the best options as fishes don't really like fluorescent colors.
Do not walk with the fins on.
When you stretch your leg, the fins should point in the direction of your leg, not your foot.
Get a long tube so your head can go deeper underwater while still having access to oxygen. If you go for a short dive, pop your ears. You can practice this before reaching the water or at home. Just drive air to your nose while pinching it and the air will instead go to your ears. Do it outside the water and then repeat it as you dive deeper. Do not wait for the ear to hurt from the pressure.
Keep an eye out for your heart rate, if you have a waterproof smart or sports watch, wear it. The heart rate is estimated to be kept below 110.
Reach your Privilege Concierge during your next stay at Bahia Principe Hotels & Resorts and inquire about the tours which include snorkeling. Some of the most popular ones at the Riviera Maya feature catamaran day trip to idyllic spots within the destination itself. Such as Isla Controy, Isla Mujeres, Cozumel, or the bay area departing from Puerto Aventuras. For an enhanced underwater experience, you can also look into touring a cenote and snorkeling within its underwater caverns.
In Jamaica, you can hire the Catamaran Day Cruises which features a beautiful snorkeling spot around Coral Bay. In the Dominican Republic the go-to options include the Catamaran day trips. Recommended tours include Isla Saona, Isla Catalina, or Isla Catalinita.
Be sure to visit the Concierge Recommends section for more articles on enticing tours and tips from the team for a more adventurous vacation.