"¡Alebrije! ¡Alebrije!" Was sung by a donkey with butterfly wings, a rooster with bull horns, and a lion with an eagle head.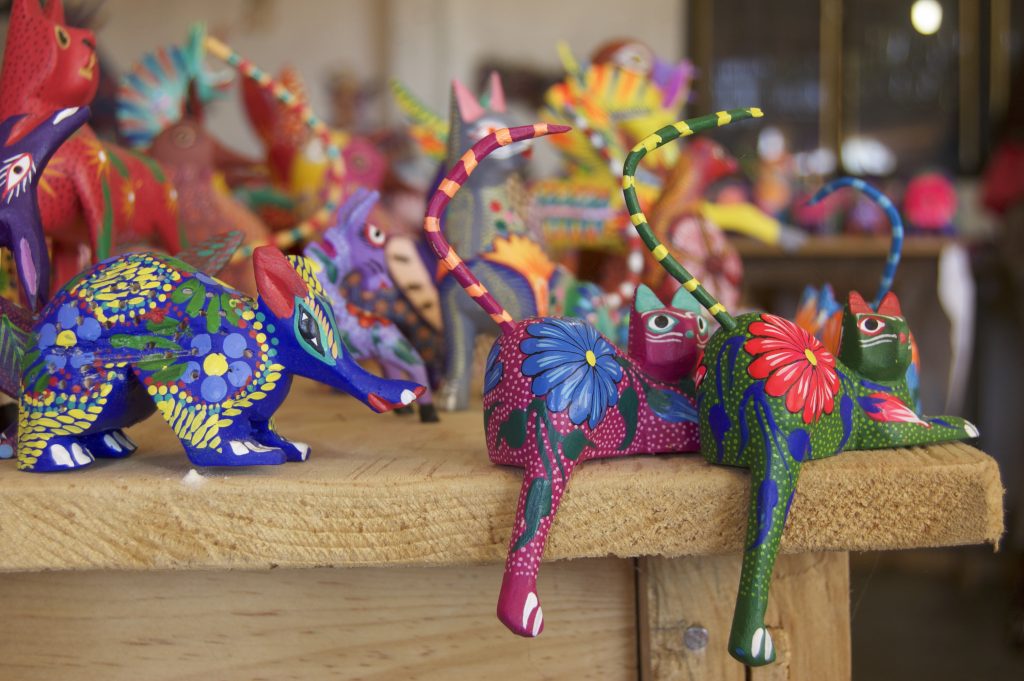 Alebrijes are brightly colored Mexican folk art sculptures of fantastical creatures, be them fantasy or mythical. The first alebrije, along with the invention of the term, originated in the 30s when the famous Mexican cartonero, Pedro Linares, dreamt of a strange place resembling a forest. There, he saw trees, animals, rocks, clouds that suddenly turned into something strange, some kind of animals, but, unknown animals. Upon recovery, he began recreating the creatures he saw in cartonería, a papercraft consisting of strips of paper and glue on an armature, and named them Alebrijes.
Nowadays, the alebrije is considered an important element of Mexican surrealist art, mainly made of cardboard, paper or wood and believed to protect one's home from evil spirits. They often take the form of fantastic animals or creatures of mythical origins. The more colorful and stronger looking, the better it would serve the purpose.
The original concept art continued with Linares sons and may be seen being sold in La Merced, in Mexico City. Many other artists have added their own elements or creatures of their own conception, following the same construction.
If you visit Bahia Principe Luxury Akumal, the recently renovated Dolce Vita restaurant features a temporary showcase of masks made in cartoneria. A special menu elaborated around popular Mexican cuisine is available on specific nights when the restaurant can be booked under the name Alebrije.
An annual event to honor Mexican hand crafts and folk art is celebrated since 2007, the Mexico City Alebrije Parade. The parade begins on midday on a Saturday in late October in the historic center of Mexico City and showcases alebrijes bigger than what Linares ever dreamt of.
The Mexican culture is vast and full of magic, representing another reason to pay a visit to the country. Visit our article on the Mexican Piñata or learn about Mexico's Day of the Dead to learn more about the local celebrations.
Services, as described in this article, are subject to availability and change without prior notice.