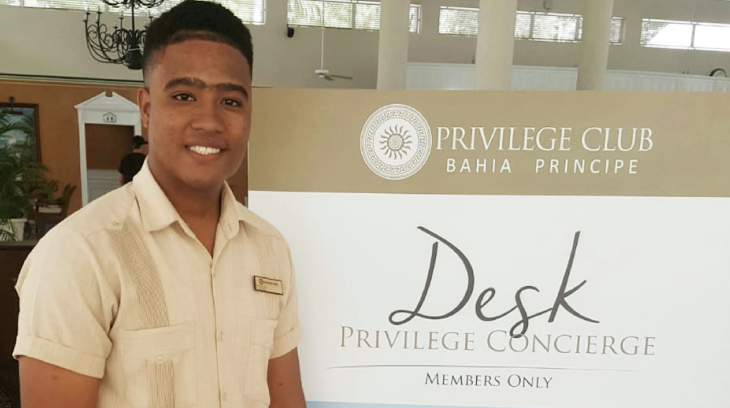 Our most recent Brand Ambassador is the youngest member of the team. With under 20 years of age, Christopher Bello has conquered the hearts of many members and colleagues.
Originally from Samana, Christopher is an hotelier at heart and an accounting student. Today you can meet our Brand Ambassador when visiting Grand Bahia Principe El Portillo.
If you would choose a word that bests describes your experience at the BPPC, what word would it be? Why?
The first thing that goes through my mind is not a word, but rather a phrase. "Better than expected." First of all, because even if it is a guest who visits the hotel for the first time, or a repetitive guest, we always strive for more. Because we want the experience to be "better than expected". Most noteworthy because my roots in hospitality are in the Reception area. From the very start I always try to offer a "better than expected" service. My motor to maintain this attitude is the harmony that exists within the team. As a result, the excellent work environment is undoubtedly the key to success.
How would you describe a typical day as part of the Privilege Concierge team in Samana?
Every day is different, however a cup of coffee is definitely included. Daily monitoring involves reviewing the Concierge log and overseeing that everything receives proper follow up. My favorite part of the day is to meet the guests face to face. I have the opportunity to meet them personally and help them make the most of their vacation. I admit that some guests may have escaped my sight, but then I go ahead and give them a courtesy call. However, I think it's always best to meet them in person.
During my experience at the Privilege Club I have changed. I have grown both personally and professionally. On the other hand, I have better shape and a good tan. On the face and arms at least!
Do you have any special story that you remember since you've been with the Club?
During the passage of Hurricane Maria in 2017, unique moments were experienced. Due to the measures taken to preserve the welfare of guests and collaborators. I had the opportunity to share unusual sensations. Since I was able to provide peace of mind to families who had never experienced these episodes of nature. In addition, I was able to provide updates in real-time to those who had not yet to arrive at Samana.
What element would you promote to encourage members to visit Samana?
The Samanense calls himself "come-coco" (coconut-eater). Due to the abundance of coconut in the region. To try these delicacies while enjoying the virgin beaches of the province. These would be my two best recommendations. To get familiar with paradise!
Tell us about your travels… Do you have a destination in mind for your next vacation?
Meeting people from all over the world expands your mental GPS and knowledge. But I must admit it, I want to go to New York. In the Dominican Republic we grow up with images of the Statue of Liberty. A symbol that represented the future for many people, who at a certain time had to emigrate. The first thing I would probably do is take a selfie with the Statue of Liberty. In addition, I would go to Yankee Stadium and enjoy a baseball game in person.
For more testimonials visit Brand Ambassador.
For more information about the Privilege Club visit our official page.