Although we are sure you could probably buy a frozen pack of the Jamaican bammy, nothing beats the satisfaction of making your own, and adding your own touch to this recipe.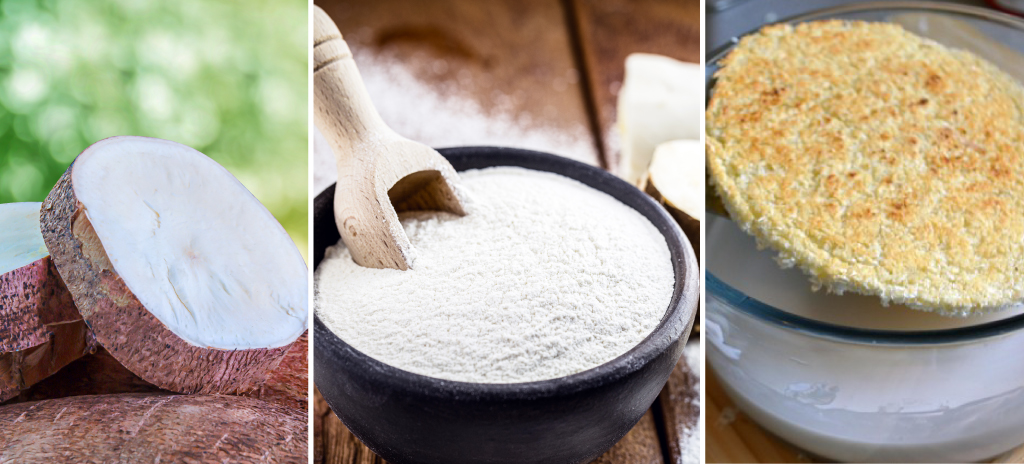 It doesn't taste like bread, but it can very well become a nice alternative to the common side dish. The Bammy is made from a root vegetable called casava (yuca) that can be dried and grinded to the point of becoming a flour of its own. This traditional jamaican cassava flatbread has been consumed since pre-Columbian times, as it is believed to have been consumed by the native Arawak. It only during more recent times that the wheat flour bread became more popular due to its more affordable price.
However, bammies are to Jamaicans, what tortillas are to Mexicans, or arepas to Colombians and Venezuelans.
You can make your own Jamaican Bammy from scratch following these steps:
1 – Get fresh cassava, peel, and cut into manageable pieces. After removing the woody core in the center proceed to grate using the smallest wholes of the grater.
2 – Place the grated cassava in a cloth to squeeze out the liquid and discard.
3 – Place the dry cassava in a bowl, adding salt and mixing.
4 – Divide the mixture into similar parts shaping them into circles.
5 – Place each portion in a heated and oiled fry pan. Use a spoon to flatten the dough and maintain the circular shape, making sure it is oiled entirely.
6 – After cooking on each side for about 5-10 minutes, remove the bammies and soak them in coconut milk or water for 10 minutes.
7 – Pat dry and refry, bake or grill until golden brown.
Traditionally speaking, the jamaican bammy is eaten for breakfast or as a companion to the Callaloo, a dish of African roots made with leaf vegetables, or with Escovitch Fish -another popular dish from the island made with red snapper.
Visit the Monthly Flavor section for more recipes and information on succulent dishes available in the Caribbean and Spain. Tag your vacation photos on social media with #VacationAsYouAre and don't forget to follow us on Instagram and Facebook.