Nothing beats flying overseas to experience a new vacation adventure or visit your loved ones. However, there are moments where the worry levels may spike. Momentarily misplacing the passport, going through customs wearing jewelry, belts, and jackets, or, the most dreaded, not seeing your luggage in the baggage carousel. As with everything that concerns travel, it is ideal to be prepared for any occasion. A proper luggage tag with legible information may be the most essential element to help track your luggage.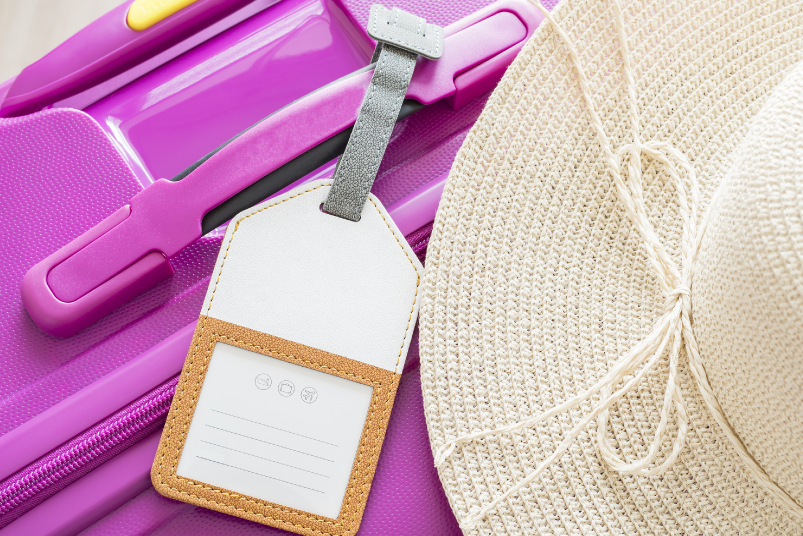 Luggage tags are one of the most important travel accessories you can own. They are also essential in the event your luggage is misplaced.
Determining the proper information to put on your luggage tags depends on the type of luggage you're carrying and how it will get to your final destination. For example, checked bags should have two tags, one outside with limited information and one inside, easy to spot should the airline require it so. The tag inside should include the same information from the one outside and on-point information regarding your travel destination, such as the hotel name and phone number, and the contact information for your return trip. You can also include alternative contacts for your destination and hometown.
Children's bags and gear on the other hand have a double purpose, to return a bag should it be misplaced or to reunite the child with the adult should they be separated. In all cases, the information on the children's tag should be the adult's.
Just as a suggestion, we have seen children's tags that feature photos of their parents or the adult traveling with them.
The bottom line is there is information that should definitely go in your luggage tag to help the airline put the bag back on track. Your last name, email address, and phone number should be a priority. With enough space, some others add their flight number.
As for what to avoid, many travelers avoid the use of luggage tags that confirm their nationality. It is also recommended, for obvious security purposes, to also refrain from sharing home addresses on the tag. A good alternative for the inside tag can be the work address if possible.
Now that you may be considering expanding your collection of luggage tags, we have one final recommendation, try to get one that has a cover, so your personal information is not seen by anyone in close proximity.
Did you know? About 97% of luggage considered lost is returned in 2 days, according to a study by international air transport technology specialist SITA (Société Internationale de Télécommunications Aéronautiques).
Be sure to visit the Products & Services section, for further reading on your favorite destination and how to get the most out of the membership. In the Privilege Tips section, you will find more articles on how to travel like a pro and make the most out of your Privilege Club membership.