There is a night-time attraction that should be on the bucket list of any traveler looking to truly discover all of which Jamaica, as a travel destination, has to offer and that is the Luminous Lagoon at Glistening Waters.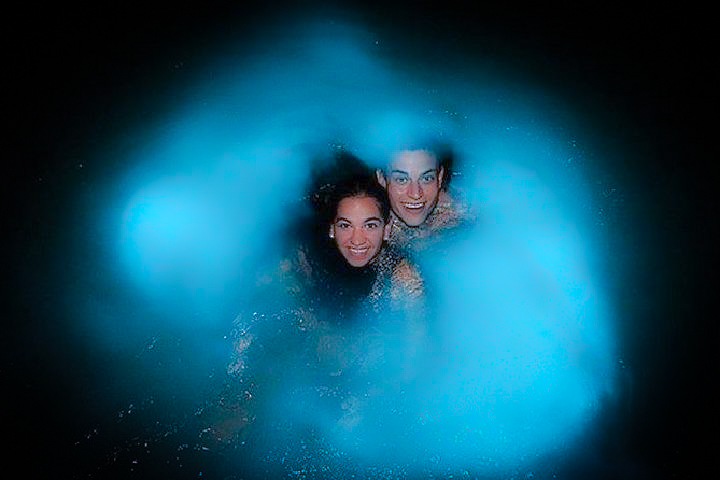 Experience this mystical phenomenon! At night, the lagoon sparkles and glistens when disturbed, as microscopic organisms called dinoflagellates produce an eerie glow, reflecting the outlines of fish and other objects in the water. This natural occurrence is called bioluminescence.
The Luminous Lagoon stretches along the marshlands of Trelawny from the small community of Rock to the town of Falmouth. In the 18th century, Falmouth was actually one of Jamaica's most pivotal ports. Its luminous lagoon is said to be one of the largest and most brilliant in the world, a fact that continually attracts and awes visitors and scientists from around the world.
A fun fact: the water continues to glow for a few hours even if taken outside the shore.
Other destinations where the bio-luminescent effect is made available, along with the opportunity to experience an out-of-this-planet experience, are The Blue Grotto in Malta; the Bioluminescent Bay, in Puerto Rico; Navarre Beach in Florida; Toyama Bay in Japan; the Matu Islands in Taiwan; and Raa Atoll Islands in the Maldives.
Grab your bathing suit and get ready to experience how the water around you lights up when you dip your feet or hands into it. This may be the perfect opportunity to take incredible photos of what a tour in outer space might look like. Just be sure to turn off your camera flash to do this attraction as much justice as possible.
Tag your vacation posts on social media with #VacationAsYouAre and don't forget to follow-us on Instagram and Facebook.