Part of the Parish of St. Ann and located at an hour and a half drive from Montego Bay, on Jamaica's north coast, is Ocho Rios, Jamaica's quintessential tourist destination, along with Negril and Montego Bay.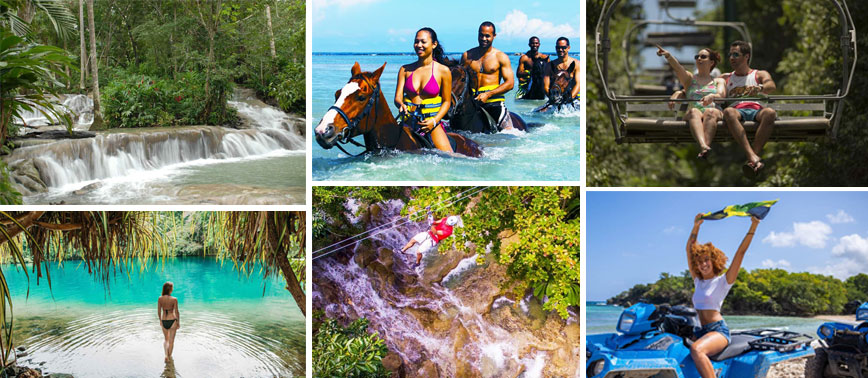 The Ocho Rios area is known as the 'garden of the parish', due to its exuberant tropical flora and fauna. A landscape composed of majestic waterfalls, zigzagging rivers and beautiful white sand beaches
Although nowadays it is on the map of many travelers, "Ochie", as the locals affectionally call it, has exploded from a small fishing village to a world-class tourist destination, capable of rivaling any other in the Caribbean. Duty-free shopping, many restaurants, off-the-beaten-path tours and attractions, port-of-call for cruise ships, ideal for watersports and scuba diving and so much more.
Feel like exploring more of Ocho Rios? Here are our top picks for tours and attractions that will bring you closer to the Garden Parish:
Chukka Tour: an adventure to get wet and dirty! Zipline through the forest of Ocho Rios, swim in refreshing beach waters and ride de ATVs along its shores.
Dunn's River Falls: Jamaica's top attraction, where you can climb 600 feet (183 meters) of this spectacular limestone rock formation as you skirt the cascades that flow into the ocean.
Blue Hole: A hiking adventure with a touch of history you won't forget. Jump as Tarzan would and dive into the different blue pools. Don't forget to explore the cave and swing with your partner and take memorable photos!
Rainforest Adventures Mystic Mountain: a park that takes you all the way from the seashore to 700 feet above sea level at the top of the mountain, stretching over 100 acres. Your time in the Jamaican rainforest will always remain in your heart.
Privilege Club members can access these and many more tours during their all-inclusive vacation in Jamaica. Tours and excursions mau feature a discount if booked with Coming2, an exclusive benefit of the Club!
Privilege Travel offers 100+ different outdoor activities featuring culture, gastronomy, sailing, snorkeling, and extended tours. Go check it out!
When traveling with Privilege Club, remember to tag your social media posts with #VacationAsYouAre. Don't forget to follow and tag our Instagram and Facebook accounts.
Visit the Products & Services section and stay up to date with Privilege Club and Bahia Principe Hotels & Resorts.