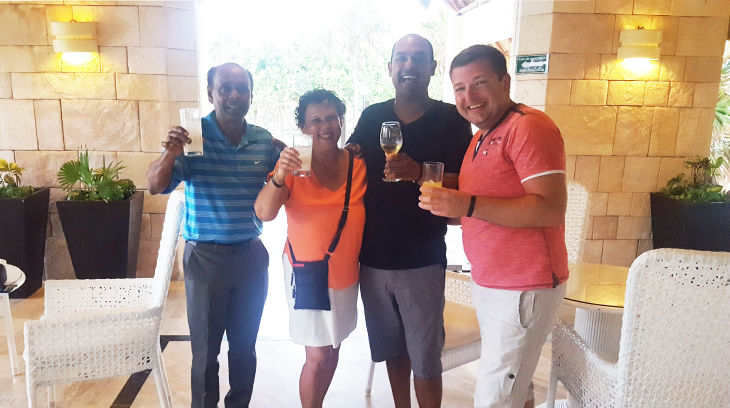 We took to approaching our beloved members, so we could learn more about their vacation as it happened. We actually met with our Member Spotlight.
The Ramesar Family, from Ontario, Canada who have been Privilege Club members for over five years. Below the shared the best aspects of their experience while staying at the Bahia Principe Riviera Maya resort.
"Our vacation is a combination of the things we like the most, all-inclusive, golf, great beaches and dance music. Bahia Principe features several golf courses and many of the hotels are in close proximity to the golfing world. We play golf everywhere we travel so that was enough to motivate us to become Privilege Club members.
We would recommend the Club because there many perks and advantages that make our stay more comfortable and truly enjoyable. On one hand there is Luxury Bahia Principe Sian Ka'an, with the possibility of having a Jacuzzi within the room, but if we were to select the best place to feel pampered at, it would be Luxury Bahia Principe Akumal.
We remember celebrating our 60th and 65th birthdays while at Bahia Principe. The celebratory amenities were excellent, making our stay very comfortable.
For our next stay we will stay at Luxury Bahia Principe Sian Ka'an –we simply can't be too far away from its great golf course.
Cheers!"