Stand-up paddleboarding is now trendy, and we encourage you to try it during your Caribbean vacation.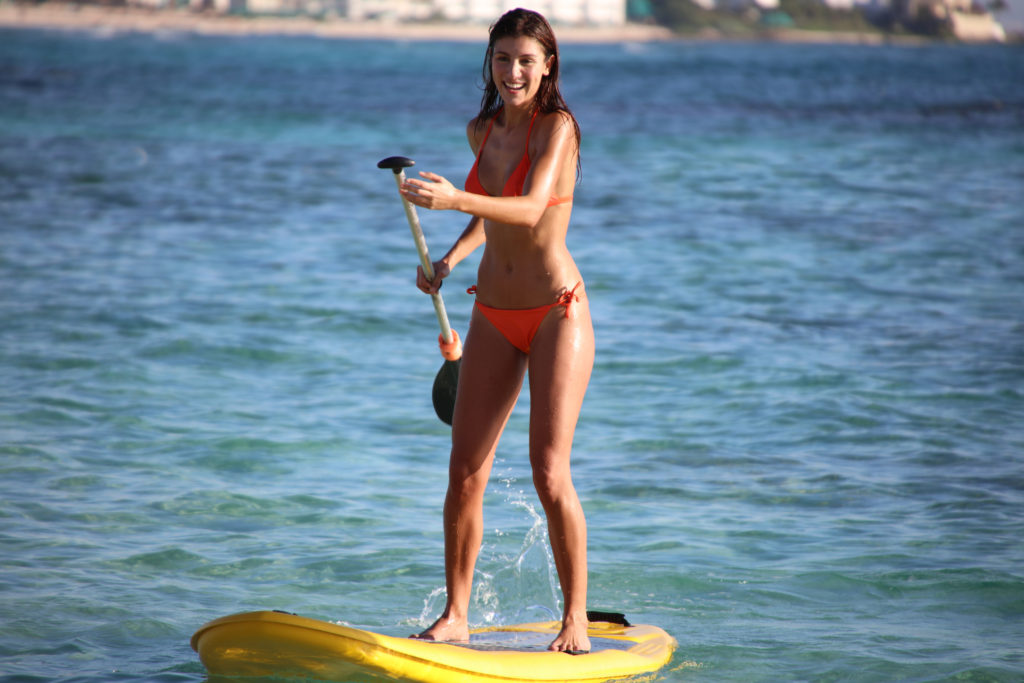 Also known as SUP which is short for stand-up-paddleboarding may seem like a simple sport with not much movement, but this is a sport that requires a lot of strength, persistence, and balance, meaning that during the first few times you get on the board, you might end up falling easily. However, in a destination with a pleasant climate, such as Jamaica how bad can falling off into refreshing sea waters be?
Is it paddle boarding, paddleboarding or SUPing? Well, the word itself is still in diapers so don't let that discourage you from giving it a go and having fun with the sport.
Here are a few tips to consider before you carry that board to the beach shore:
1. Always look towards the horizon. A way to keep a steady balance is to always face the horizon. If you focus too much on your feet, the sea, or your friends, you risk ending up in the water.
2. Row with your entire body, not just with your arms. An often mistake is to make is to only row with your arms. If you don't use other parts of your body, such as your core you will end up with a set of very achy arms. Use those abs!
3. Submerge your paddle. To work your muscles well, you need to submerge your paddle completely in the water to row better. Your hands needn't be too close together, one should be at the paddle's T bar grip and the other in the scale. Also, be sure to keep the front part of the paddle facing the front.
4. Keep your whole body balanced. Your feet should be in line with your shoulders. Once you have gotten on your board, you need to use all your body to keep yourself balanced. But do not be afraid to remain seated during the first outings. You will get there.
5. Get on your paddleboard from the back end. This is the best way to keep balanced as you get on the board. Use the center of the board to support your chest and get up on your knees. After that, getting up on your feet should be very easy!
6. Using an ankle leash to attach yourself to the board is not optional. Always strap a leash around your ankle. This will prevent your table from drifting off at the mercy of the winds and tides should you fall and save any swimmers nearby.
7. Your wellbeing comes first. The first time you go out to sea, always stay with your group, and use a life vest. Don't go out too far and always pay attention to your instructors' instructions.
8. Choose good weather. For your first time, we recommend choosing a day that boasts good weather and sea conditions that allow you to fully enjoy your SUP adventure.
9. While doing stand-up paddleboarding in a group is fun, always keep a safe distance from your friends.
10. Enjoy yourself! Your attitude is everything and you will need a lot of patience in SUP if you want to learn how to keep yourself steady on the sea. Take a breath and keep calm, anyone can learn to paddleboard!
What could be more fun than challenging yourself to try to stay on a paddleboard? When visiting Bahia Principe Hotels & Resorts visit the Subaquatic desk for information on any available course, for a taste of one of the most popular sports of the moment.
When visiting Bahia Principe Hotels & Resorts with Privilege Club, remember to tag your social media posts with #VacationAsYouAre. Don't forget to follow and tag our Instagram and Facebook accounts.