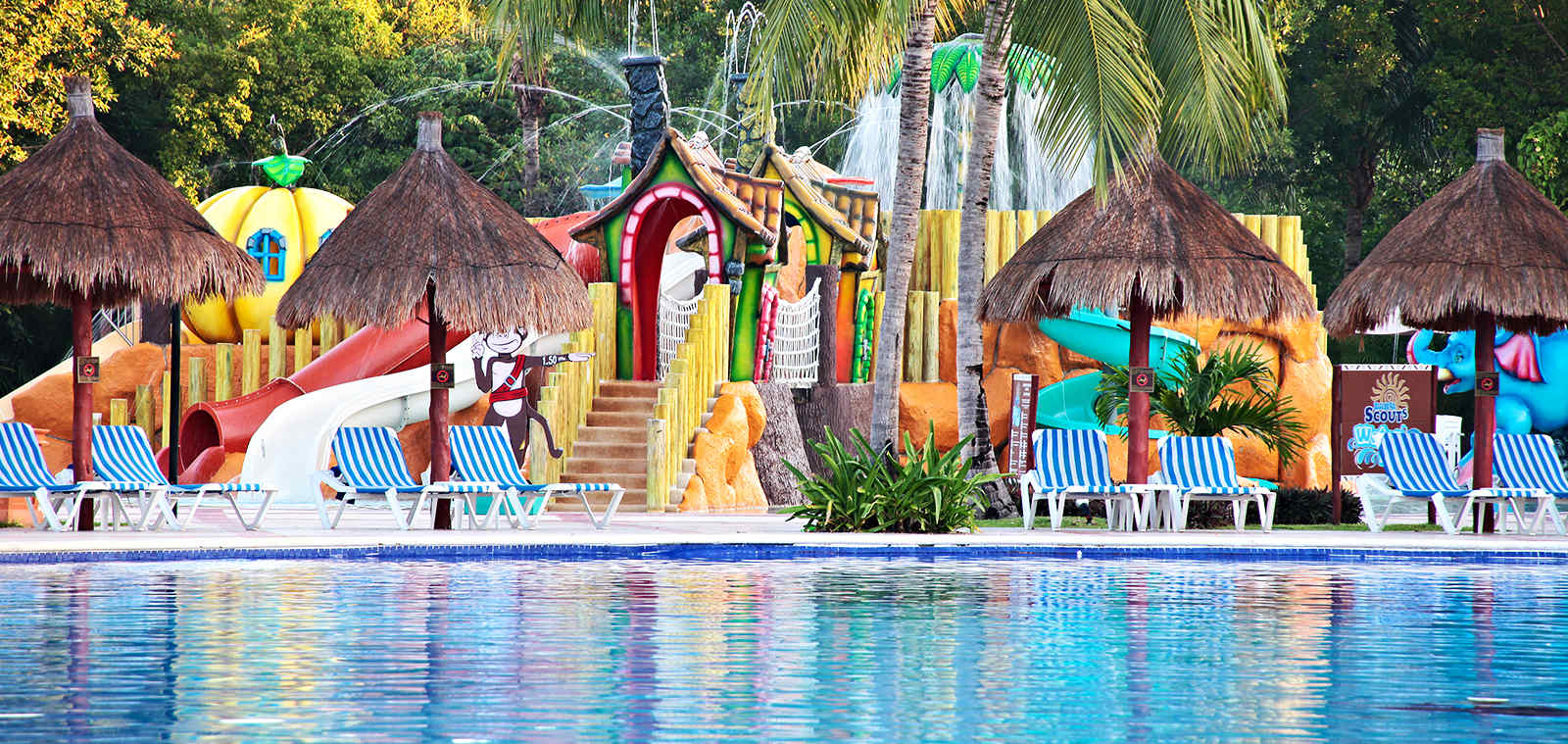 Grand Bahia Principe Coba
Just a short trolley ride to the beach, this hotel offers the best atmosphere for that great family vacation.
See all about
A hotel where adults and children can have fun together, but at the same time enjoy their own space. The perfect opportunity for intrepid families to immerse themselves in the fascinating Mexican culture.
Privilege Lounge*
Privilege Beach*

Club Carts*
2 Pools
9 Bars
10 Restaurants
Bahia SPA
Bahia Scouts Water Park
Bahia Scouts program
Resort trolley
Casino
Hacienda Doña Isabel **

Dolphinaris Tulum **
Riviera Maya Golf Course **


*Services and facilities exclusive for Privilege Club members
** Subject to additional charges

100 minutes to Cancun (CUN)
Located just a quick trolley ride from the beach, the Grand Bahia Principe Coba is a secluded resort with many different attractions and activities for you to enjoy. This 1,080-room hotel is family friendly, with facilities designed to delight guests of all ages!
Restaurant Options at Grand Bahia Coba
Guests at this hotel have access to 10 restaurants and 9 bars, so there is truly something for every taste! Whether you have more conventional food preferences or you're in the mood for a culinary adventure, you'll find many delightful dining options when you stay at Grand Bahia Principe Coba.
Some of our many specialty restaurants include:
Kukulcan Restaurant, which offers a buffet of international cuisines so there's bound to be something for everyone. Formal dress is required, but reservations are not.
The Pool Restaurant also serves international cuisine, but there's no dress code and reservations are not required.
A number of A La Carte restaurants such as the Mashua Nikkei Restaurant (Japanese and Peruvian fusion), Le Gourmet Restaurant (French cuisine), Portofino Restaurant (Italian cuisine), Don Pablo Gourmet Restaurant (Modernist gourmet cuisine), and more. At these restaurants, both formal dress and reservations are required.
This all inclusive resort hotel features a buffet restaurant open for breakfast, lunch, and themed dinners. Alternatively, Club members can book their a-la-carte dinner at any of the specialty restaurants onsite.
There are a number of bars located throughout the resort, including a Sports Bar, pool bars and beach bars. And of course, there is also our Snack Bar where you can pick up familiar American food and snacks to give you a little boost in between meals on a busy day of enjoying your vacation.
Activities for Kids and Teens
The Grand Bahia Principe Coba offers a range of activities onsite, with enough options that a stay with us is bound to delight any guest. We're a family friendly resort where your children and teens can enjoy a water park with many slides and themed pools. Our Bahia Scouts gives you a chance to customize your child's Coba vacation experience, with activities that range from bumper cars to learning about nature.
If you have younger children and wish to enjoy a little total relaxation or alone time, we have a babysitter service -- your kids can enjoy the pool or water park while being safely supervised. If you have older kids, our mini-golf course, Kids Club or Teen's LOFT are there to help them make new friends and have the time of their lives!
Nightlife and Adults-Only Fun
When you've spent the day relaxing by the pool, on the beach or in the spa, and you're all recharged and ready for some nightlife, check out La Rancherita night disco at Hacienda Doña Isabel. Feeling lucky? We also have a casino with live table games like roulette, blackjack and craps. Or you can hit the Sports Bar to sit back and enjoy the game with a cold beer.
Things to Do and See in Coba
Our all inclusive resort offers enough entertainment to keep you busy for weeks, but we wouldn't want you to miss what else the area has to offer! From the local shopping area and crafts market to Mayan ruins, from a tour of the stunning Mayan jungle to exploring an underground river, there's no end to the fun you can have in this area of Mexico.
With multiple pools, a spa, our children's water park, and a host of other activities and amenities in a luxury setting, your stay at Grand Bahia Principe Coba is sure to please. Enjoy fun in a magical natural setting, learn about Mayan culture and history, take a family vacation your gang will never forget, or just enjoy a romantic getaway or honeymoon in paradise.
Our resort also has plenty of fun activities and parties for guests of all ages, such as sports, tropical parties, scavenger hunts, theme nights and more -- be sure to check with the hotel about what is planned during your stay so you can take advantage of all the fun and meet new friends.
Your dream vacation is waiting for you, and we're ready to welcome you to paradise!

4 countries
Mexico, Jamaica, Dominican Republic & Spain
6 destinations
Riviera Maya, Runaway Bay, Samana, Punta Cana, La Romana & Canary Islands
Discover the world of RCI
35,000 Exchange options