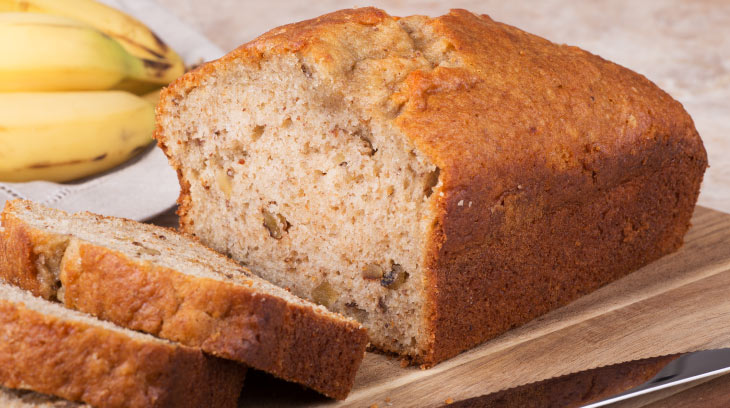 Ever had a bunch of ripe bananas sitting in a corner of your kitchen? Well with this banana bread recipe you will be able to put them to good use in a most, sweet, moist and delicious way!
Banana Bread Recipe
INGREDIENTS:
• 2 cups (250 grams) all-purpose flour, spooned & leveled
• 1 teaspoon baking powder
• ½ teaspoon baking soda
• ½ teaspoon ground cinnamon
• ½ teaspoon salt
• ½ cup unsalted butter (room temperature)
• ¼ cup brown sugar
• 2 large eggs (room temperature)
• 2 teaspoons pure vanilla extract
• 2 cups mashed ripe banana
DIRECTIONS:
1. Preheat oven to 350°F for a 9×5 non-stick loaf pan. You can use non-stick cooking spray if necessary.
2. In a large mixing bowl, mix the flour, baking powder, baking soda, cinnamon, and salt.
3. Grab your electric mixer and a larger bowl and mix together the butter and brown sugar until light and fluffy. Finally add the eggs and vanilla, making sure to mix well after each addition. Stop and scrape down the sides of the bowl, then add the mashed banana, mixing until smooth.
4. In addition, scoop the batter into the prepared loaf pan and spread it around into one even layer.
5. Bake at 350°F for 55-65 minutes.
6. Remove from the oven and allow to cool in the loaf pan for 20 minutes before removing the bread from the pan.
Banana Bread is ready. Happy snacking!
For more recipes visit our Monthly Flavor.
For more information of the Privilege Club visit our official website.