Right after the popular Dominican rum, comes in the Mamajuana, also made with rum but with enough singularity to be considered a different beverage.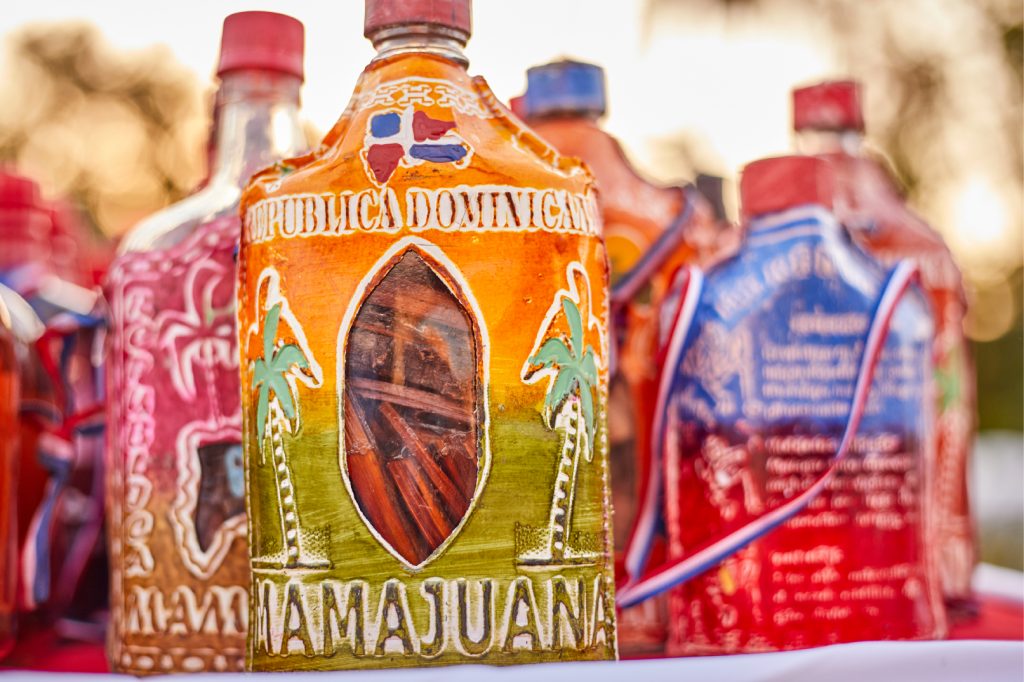 The Mamajuana is considered a popular souvenir by many tourists that visit the country, and a piece of home, by many Dominicans living in other countries. The beverage is said to own many attributes, ranging between featuring curative properties, to being an aphrodisiac.
The recipe for the sweet liquor is not set in stone and will indeed vary depending on who you ask.
Amongst the dried ingredients being thrown into the mix, it is common to see basil, star anise, princess vine, guinea hen weed, china root, cinnamon, whole clove, rosewood leaf, chamomile, bay rum tree, West Indian mulberry, buttonweed, basket wood among others. After fitting all them in the glass bottle the process involves soaking them in rum and honey for a couple of days, depending on how fresh the herbs and tweaks were. You will need to discard the liquid afterward because this first soak is to curate the mix and get rid of the bitter tastes. So don't be afraid to use cheap liquor.
For the second refill stick to your rum and wine of preference. Add equal parts of each with the amount of honey you deem enough to reach your desired level of sweetness. Let it sit for at least a week before consuming.
Once the Mamajuana is consumed you can refill the bottle once again. How many times? Probably until you feel the flavors have died out.
Here is a tip… It is easy to come across the bottle already containing the herbs and twigs. You only need to add wine, rum, and honey. Filtered versions of the beverage are also available.
Here is a fact… the name of the beverage does not derives from the recipe itself. Mamajuana is the "dominicanization" of the French term "Dame Jeanne", the female version of "demijohn", which was employed to describe glass container used to prepare and storage the maceration. Therefore the name refers to the container and not the product within. Nowadays the Mamajuana as it is known can still be found in this type of container, or in glass bottles of different shapes.
On a final note, the Mamajuana joins the repertoire of digestives liquors and is served in shots at room temperature.
Cheers!
Visit the Monthly Flavor section to learn about other delicious recipes.