Nothing like a refreshing colorful and tasty cocktail to bring summer to the house. Your cookout can now be about mixing and shaking ingredients, to produce rich flavors reminiscent of the Caribbean. In this article, we go over a few recipes for tropical mocktails, for the whole family.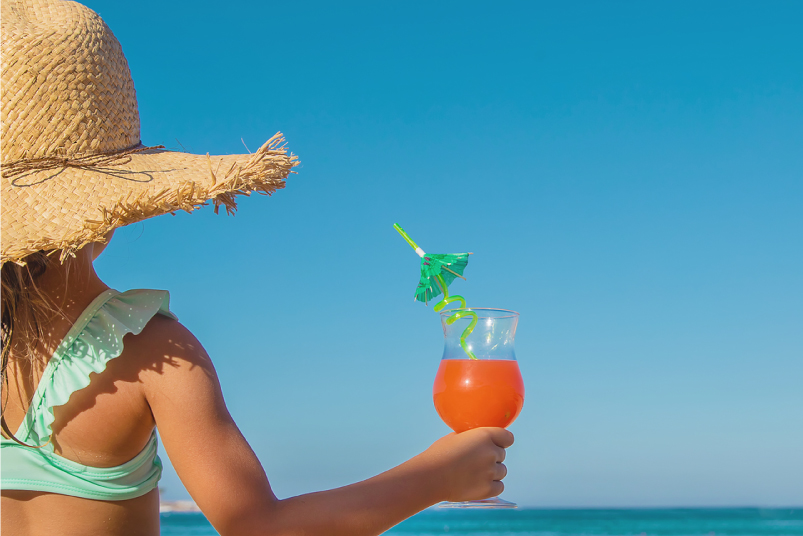 A mocktail is a non-alcoholic version of any mixed beverage, usually made with fresh fruits, soda, and ice. So go ahead and invite the whole family to a delicious and colorful mocktails party.
While there is a number of mocktail recipes made specifically excluding the alcohol, many standards, and known recipes can also be modified to simply exclude it. An example being the Daiquiri made with just the fruits, ice, juice of a lime, and sugar.
Here are just a few of the most popular recipes that you can feature in your tropical mocktails party:
Nada Colada: which is the classic Piña Colada made only with pineapple, coconut cream, and ice. Simply mix in the blender and serve. Additional cold water may be necessary. Click here for the original recipe.
Shirley Temple: ⅛ cup grenadine, ⅓ cup squeezed lemon juice, ⅓ cup squeezed lime juice, ice, ⅓ cup soda, 2 maraschino cherries.
Add the grenadine, lemon juice, and lime juice in a tall glass. Stir with one until everything is combined. Put ice in the glass and add the soda to fill it. We remove again and decorate with the maraschino cherries.
Bananamama: 1 cup pineapple, cubed, 3 tablespoons coconut cream, ½ cup strawberries, 1 banana, ½ cup water or pineapple juice (optional), ice, sugar (optional).
Wash the strawberries and pineapple, peel the pineapple and cut into cubes and freeze for 30 minutes or more. Put all the ingredients in a blender, add the banana and mix.
Sweet Sunrise: orange juice, sugar-free lemonade, grenadine, orange slices (for garnish).
Fill each glass about a third of the way up with orange juice. Add lemonade and leave space for the grenadine, which will be added very slowly and carefully. The grenadine should sink to the bottom to form a pretty red layer. Garnish with an orange slice and serve… cheers!
Virgin Margarita: 1 ⅓ cup of frozen limeade, a cup of orange juice, ⅔ cup of grapefruit juice, lemon and lime slices (for garnish), bar salt (for the rim of your glass).
Salt the rim of your margarita glass, then blend all of the ingredients, along with ice. Blend until thoroughly mixed together, then pour into a margarita glass and garnish with the chosen fruit.
Strawberry Lemonade: 25 grams strawberry, 1 cup of lemon or lime juice, a sprig of fresh peppermint, 1 spoon of sugar, and ice.
Mash the strawberries in a glass, add the lemon juice, followed by the peppermint and the sugar. Mix well and add ice if necessary.
Orange Sorbet: ½ cup cold ginger soda (Schweppes Ginger Ale for example), ¼ cup cold orange juice, 1 pinch of cold pineapple juice, and 1 tablespoon of orange sorbet.
Mix the ginger ale, orange juice, and pineapple juice in a bowl and let the orange sorbet float on the surface until it melts. Then serve immediately.
Roy Rogers: Ice, 1 cup of cola, ⅛ cup of grenadine, 2 maraschino cherries.
Fill a long glass with ice and add the cola and grenadine. Gently stir with a cocktail spoon or straw. Garnish with the maraschino cherries and you're done. We toast to a refreshing summer with these tropical mocktail recipes. Be sure to explore our Monthly Flavors to search for other tasty recipes.