When thinking about pineapple it feels impossible not to crave a bite almost immediately. Despite the sweetness, this tropical delicacy is low in calories and we can expect a lot more benefits of eating pineapple.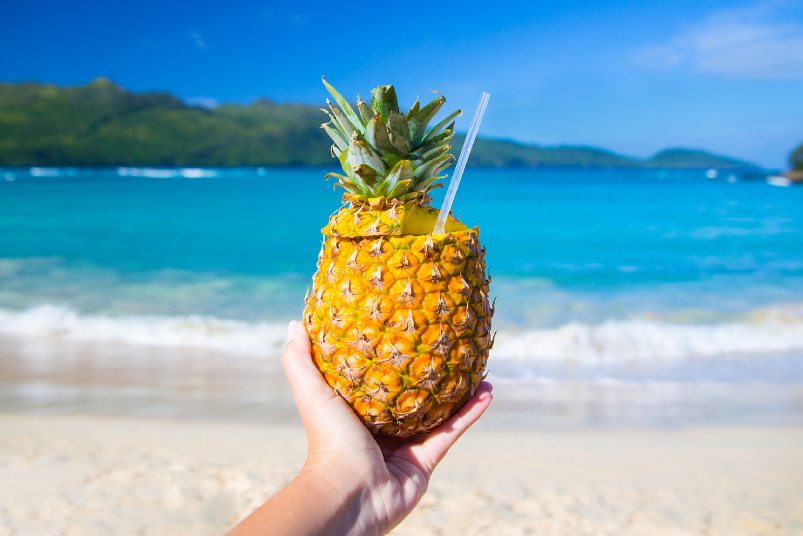 Where do Pineapples come from?
This symbol of tropical flavor is native to South America, where it has been cultivated for many centuries. The introduction of the pineapple to Europe in the 17th century made it a significant cultural icon of luxury.
Did you know? The fruit needs between 14 to 18 months before it reaches full maturity and is ready to harvest. In today's economy Costa Rica, Brazil, Philippines, and Thailand are amongst the world's top producers of pineapple.
Although one can find canned pineapples nowadays, we will only go over the benefits of eating pineapple as a raw fruit, since the nutritional profile for canned fruit is different.
The fruit as it is contains a number of advantages that one should not simply pass up. One cup of the yellow bites, or 165 grams, will provide many of the recommended minerals and nutrients within the daily diet, as well as traces of vitamin A, K, B6, phosphorus, zinc, and calcium. The significant amount of Vitamin C present in pineapples is essential for growth and development, a healthy immune system, and aiding the absorption of iron from the diet. Meanwhile, manganese is a naturally occurring mineral that aids growth, maintains a healthy metabolism, and has antioxidant properties.
Similar to other fruits and vegetables the dietary fiber contained in pineapples will also be of advantage to keep a healthy intestine. Being part of the bromeliads plant family, pineapples also contain an enzyme that breaks down proteins, thus fighting inflammation and helping with digestion. Additional benefits have been attributed, such as easing the symptoms of arthritis and speeding the recovery after strenuous exercise of having surgery.
Among other benefits of eating pineapple is the fact that it is simply delicious and easy to add to the daily diet. Have a cup of fresh fruit for breakfast, mix it with yogurt, or make a smoothie. Throw some pineapple dices into your roast recipes, or incorporate them into your salads. Have you heard of the Hawaiian Pizza or Hawaiian Burgers? There is a world of dishes you can try.
Here is a list of quick ensembles that feature pineapple:
Make a smoothie with Greek yogurt, blueberries, mango and pineapples.
Grill your favorite chicken skewers with pineapple, green bell peppers and red onions.
Grill pork skewers with pineapple and red bell peppers.
Try a different mix for your tuna tartar, try adding red onions, pineapple, sesame seeds, tomato and avocado.
Don't forget to add dices pineapple to your tacos.
Wisk a pineapple sauce for your next batch fried breaded shrimps.
Combine it with cream cheese for a sweet and sour spread.
Dice and toss pineapple into your favorite salad.
Try fried rice with veggies and pineapple. It is very Thai!
Combine slices of pineapple with smoked ham and cheese to create your very own Hawaiian sandwich.
And finally, don't forget to try the classic pineapple upside-down cake.
If you feel hungry after reading this article, you are probably not alone. We hope you give these recipes a try or create your own way to reap in the benefits of eating pineapple. Did you like this article? Go ahead and visit the Monthly Flavor section for more recipes or to read more about the culinary intricacies of the Caribbean.