–Some countries call it "Old Town"; others refer to it as "City Center" or "Historic Center". No matter what it's called, we can all agree that these special corners have the perfect blend of romantic flair; vibrant colors and an air of nostalgia that will take you back centuries and fast forward you to the present so you can snap your new favorite picture.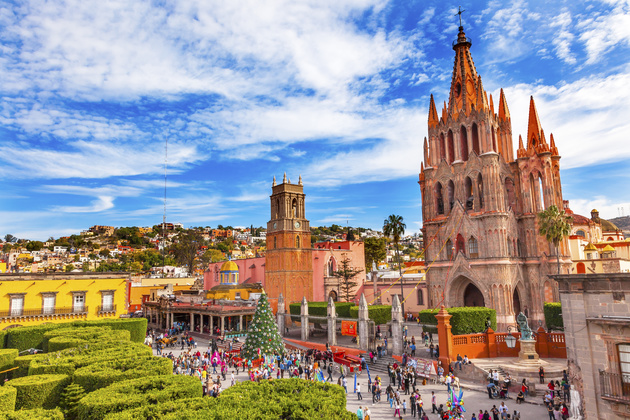 Europe offers an infinite amount of backdrops to capture that perfect snapshot of your dream trip –yet, there is a certain charm to its remains in countries of the new world. While a cosmopolitan city center has its own allure as modern buildings decorate the skyline, you can always find a hidden gem in the most ancient corner of the city, the old town.
If you want to include a visit to one of these magical spots we've selected a few that may just make it into your itinerary or be reason enough to pick a new destination. Size, architecture, gastronomic offer and nightlife are all part of this compilation and essential elements present within our picks.
Cartagena de Indias, Colombia
Colombia on its own already features enough attractions to make it difficult to choose. However, if historic sites is a must then Cartagena is the undisputable winner and go-to destination. Its Old Town is big enough to be called a "walled city". The old town offers plenty to entertain your nights, after having spent your days nearby the Caribbean beaches.
Other interesting Historic Centers in Colombia are: Bogota Old Town and Zipaquira, which features the unique Salt Cathedral, only a few hours away from the capital.
Cusco, Peru
Once the capital of the Incan Empire, with many legends told within its ruins. The city center is surrounded by a more modern air, but the colonial flair is far from being removed. Cuzco is so rich in archaeological as it is in contradiction, with cathedrals stumbling over Inca heritage. You will never run out of things to see.
Alternatives in Peru: Lima Historic Center, Machu Picchu and the Historic Center of Arequipa.
Cuenca, Ecuador
Out of a story that is centuries old with traces of Spanish and French, Cuenca is easily one of the most beautiful cities of Ecuador. A hub for the local craftsmen, and the heart of the local traditions, complete with cobblestone streets. Cuenca's Historic Center is a Unesco World Heritage Site.
As an alternative one cannot forget to visit Quito, which features an impressive historic center with a multitude of colonial sightings.
Mexico City, Mexico
The country had colonial settlements all over the place, which is why there is no surprise in the number of old town that can be visited throughout its many districts. When in Mexico City you can a spend a whole day exploring its historic center and then visit Coyoacan Tlalpan, and La. Nowadays, and due to their popularity, Mexico features a list of "Magical Towns" popular for their episode in history.
Popular alternatives in Mexico are: San Miguel de Allende, Taxco and Mérida.
Antigua, Guatemala
Feel captivated by the vibrant colors of Antigua Guatemala, once the capital of the Guatemala. Snap a shot of colonial buildings, as they are only steps away from Mayan ruins. The city has experienced earthquakes and volcanic eruptions and now re-introduces itself, mostly thanks to its inhabitants, who wish to restore it to its former glory. Enough to make it Guatemala's most visited destination.
Guatemala City also features its own Historic Center which provides a unique view of the contrasts between modern and old.
Bonus! Panama, Panama
Fast rising as a predominant cosmopolitan destination, Panama City if not only popular for featuring the Atlantic end of the Panama Canal–it also gives travelers the option to escape the skyscrapers into the romanticism of its historic quarter. While it is the smallest neighborhood of the city, it is packed with restaurants for all palates and a nightlife that suites all styles. An occasional parade can also be seen alongside the crafts market.
For more recommendations visit Travel Destination.