Every year, there is a countdown across the globe to celebrate Earth Hour and take one iconic action: switch off the lights. The World Wildlife Fund, or WWF, defines this movement as so much more than action, a symbol of unity, a symbol of hope, a symbol of power in collective action for nature.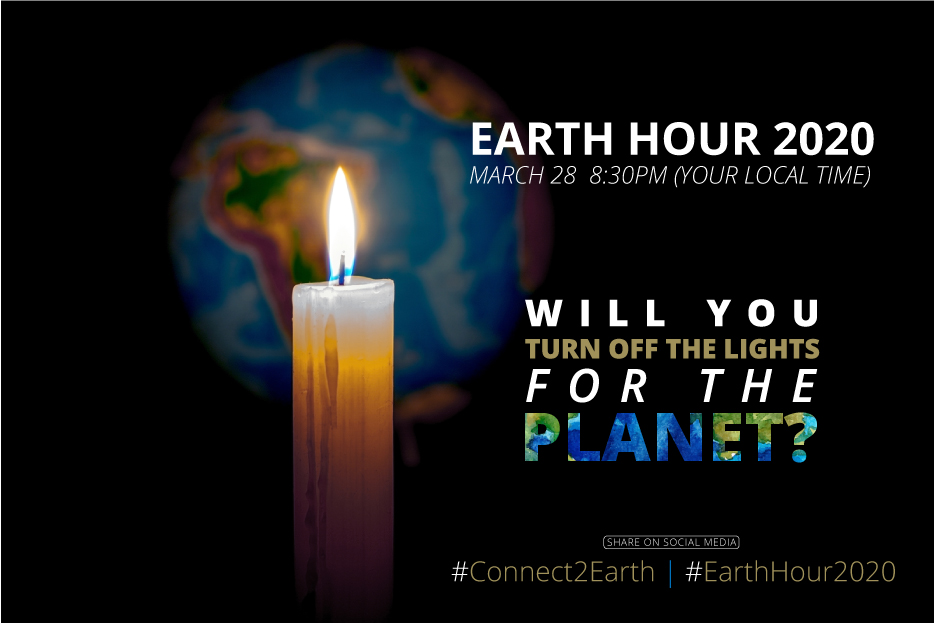 In the midst of the global COVID-19 sanitary crisis, Earth Hour marks a moment of solidarity for the planet as global communities unite and organize events digitally.
With nature loss continuing unabated, Earth Hour 2020 draws attention to the immediate need for halting nature and biodiversity loss for our health and well-being. The global moment comes ahead of world leaders scheduled to take critical decisions on nature, climate change, and development. Earth Hour marks a pivotal opportunity for civil society members, citizens, nation heads, CEOs and environmentalists to demonstrate their objective towards sustainability.
But… What is Earth Hour?
Earth Hour, organized by WWF, is a global grassroots movement uniting people to take action on environmental issues and protect the planet. Engaging a massive mainstream community, Earth Hour was famously started as a lights out event in Sydney, Australia in 2007. Since then, it has grown to engage millions of supporters in more than 185 countries and territories, inspiring individuals and organizations worldwide to take action for the environment, and driving major legislative changes by harnessing the power of the crowd. As the movement grows, the one-hour lights out event continues to be the symbol of a broader commitment toward nature and our planet.
Did you know? More than 2.2 million individuals and 2,000 businesses turned their lights out for one hour in the first Earth Hour event.
Here are some of the highlights achieved by Earth Hour:
WWF-Uganda created the world's first Earth Hour Forest
More than 250,000 Russians voiced support for better protection of their country's seas and forests
Argentina used its 2013 Earth Hour campaign to help pass a Senate bill for a 3.4 million hectares Marine Protected Area in the country
Thousands of wood-saving stoves were distributed to families in Madagascar
Solar-powered lights were installed in three villages without electricity in India
In Paraguay, WWF used the Earth Hour platform to build public support to gain an extension of the logging moratorium, helping to reduce deforestation
Education programs for schools were launched in Thailand and Taiwan
Hundreds of thousands of LED lights were installed by girl scouts in the USA
More than 2,123 mitigation actions submitted by Earth Hour City Challenge 2014 participating cities
We encourage you to visit Earth Hour's official website to learn more about this global movement and check-out their article on ideas for everyone and how easy it is to contribute. Just because you're staying at home, that doesn't mean you can't have a memorable Earth Hour on-the-night experience! Read Earth Hour's list of 20 things you can do at home or online this Earth Hour (Saturday, March 28 at 8:30 pm your local time).