We have selected a dish directly from the Bahia Principe Spanish buffet. Originating in France, but highly recognized in the neighboring countries and the Iberian Peninsula, the ham croquettes can have recurring role as both, a fast food or a fancy dish.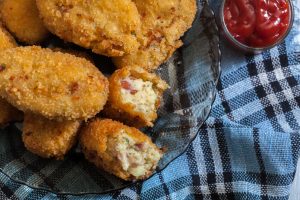 Below we leave you the specific recipe for the tasty Iberian Ham Croquettes.
Servings: Depends on the size of the croquettes.
Preparation time: 45 minutes | Cooking time: Fry until croquettes are golden.
Ingredients:
For the dough:
1 liter of milk
140 gr flour
140 gr butter
400 gr of ham
Salt
Ground black pepper
Nutmeg
For the batter:
150 gr flour
2 large eggs
150 gr breadcrumbs
Preparation:
Cut the ham into small squares, as small as possible.
Boil the milk with salt, pepper and nutmeg.
Stir-fry the ham with a little butter.
Heat the remaining butter. Once melted add the flour and stir for a few minutes.
Add the hot milk to make a very thick batter and then incorporate the ham.
Spread the dough on a plate and let it cool.
Once the dough is cold and compact proceed to make the croquettes in the desired shape (round, rectangular…).
Flour, dip in the beaten egg and finally in breadcrumbs.
Before frying the dough should be refrigerated.
Make sure the oil is as hot as possible before frying the ham croquets.
Recipe courtesy of Luxury Bahia Principe Sian Ka'an.
Visit the Monthly Flavor section to learn about other delicious recipes.