Between photos, memories, and a wonderful tan, we can indeed boast that we have been on vacation. Now let's add a whole repertoire of new phrases and words to show exactly where we've been. Let's look at a few Mayan words that may be familiar to us.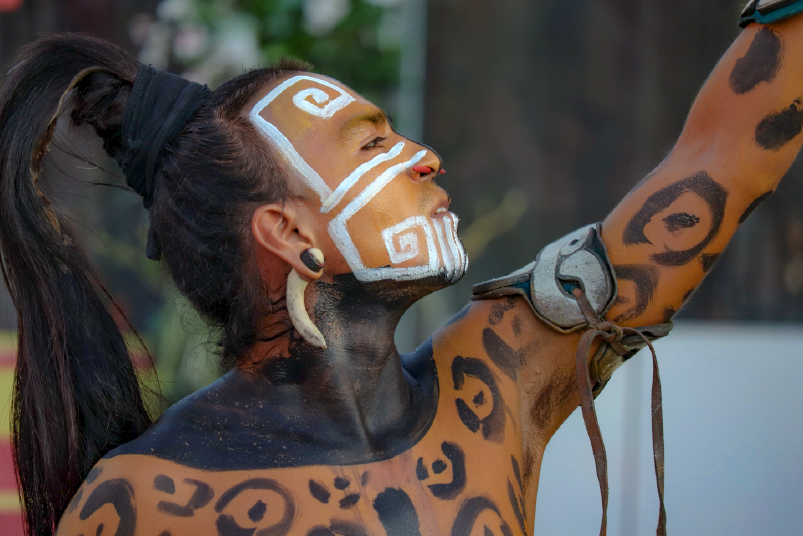 Even though indigenous cultures have dissipated over the centuries, there are still many communities that retain their cultural aspects, not only in Latin America, but in many other parts of the world. And retaining their own communication skills gives them the ability to transmit ancestral wisdom first-hand and without reinterpretations.
Did you know? Mayan is a language and not a dialect. Along with Spanish, in Mexico there is Maya, Náhuatl, and 66 other linguistic groups, which in turn are classified into 11 linguistic families.
If the Bahia Principe Riviera Maya complex is your favorite destination, then surely these words are already part of your vocabulary:

Akumal – Place of the turtles
Coba – Waters stirred by the wind
Sian Ka'an – Origin of the sky
Tulum – Wall
Yucatan – Place of wealth
Zama – Sunrise

There are also dozens of words or terms that sound familiar to you just from visiting the tourist destination and its attractions.

Aktun Chen – Cave with sinkhole inside
Bacalar – Surrounded by reeds
Chichen Itza – at the mouth of the Well of the Itzá.
Cozumel – Island of the swallows
Dzonot – a word that gave origin to "cenote"
Ek Báalam – Black Jaguar
Holbox – Black hole
Ik'kil – Windy placeTankah – Town center / Square
Xel-ha – Spring water
Ya'ax Che – Mayan Tree of Life
Below we share some Mayan words that may sound familiar to you if you visit the towns of Yucatán, Campeche, Quintana Roo, Chiapas, and Tabasco.
Abyss – Julek'
Advise – Tsool xikin
Age – Kian
Aquatic – Ja'il
Army – K'atun
Bathroom – Ichkíil
Bird – Ch'íich'
Black Beans – Boox Buul
Bumblebee – Báalam kaab
Chaos – Xa'ak'/ xa'ak'íl
Coal – Chúuk
Conversation – Tsikbal
Dancing – Óok'ot
Day / Sun – K'iin
Devil – Kisin
Drawn – Jochol
Emotion – Jak'óolal
End / Side – Tséel
Expense – Xuup
Favor – Anat
Field – K'áax
Final – Xul
Finish / Last – Ts'o'ok
Fire – K'áak'
Fortress – Muk'óola lil
Fossa – Mok'och
Goodness – Utsil
Grandmother – Chiich / Chichi
Grandpa – Nool / Taaten / Nojoch taata
Great Lord – Ajua
Groove / Line – T'o'ol
Hat – P'óok
Heaven – Ka'am / Ka'an
Hiel – K'aaj
Horse – Tsíimin
Huano – Xa'an
Hug – Méek'
Hummingbird – Ts'unu'un
Ice Cream – Yes
Kiss – Ts'u'uts'
Lady – Xunáan
Large Iguan – Tolok
Lasagna – Ch'em
Lawyer – Aj k'ulel
Liver – Táaman, tamnel
Name – K'aaba'
Narrate / Accommodate / Organize – Tsool
Pico de Gallo – Xnipec
Play – Báaxal
Rabbit – T'u'ul
Raise – Na'aks
Read – Xook / Xoox
Report – Num chi'
Rooster – T'eel
Ship – Cheem
Spanish – Kastlan t'aan
Sweet – Ch'ujuk
To get off / Go down- Éemel, éem
Tomato – P'aak
Traditional blouse for women – Huipil
Twin – Lich
Wash – P'o'
Wedding – Ts'o'oklubeel
Whale – Masam
Wing – Xiik'
Worship – K'ult
Write – Ts'iib
The Mayan Civilization stood out for its extraordinary ability to carry out works that would survive the historical period in which they were carried out. Just as today the use of their language by the locals predominates.
We look forward to welcoming you soon to one of the hotels in the Bahia Principe Riviera Maya resort. Be sure to tag your vacation posts on social media with #VacationAsYouAre, and don't forget to follow us on Instagram and Facebook.