Rice is the perfect side dish in many countries but rice with coconut is almost mandatory in many coastal cities. Here's an easy Dominican recipe that features pigeon peas, for you to bring home the flavors of the island, a sister dish to other fantastic wonders of the kitchen that involve coconut.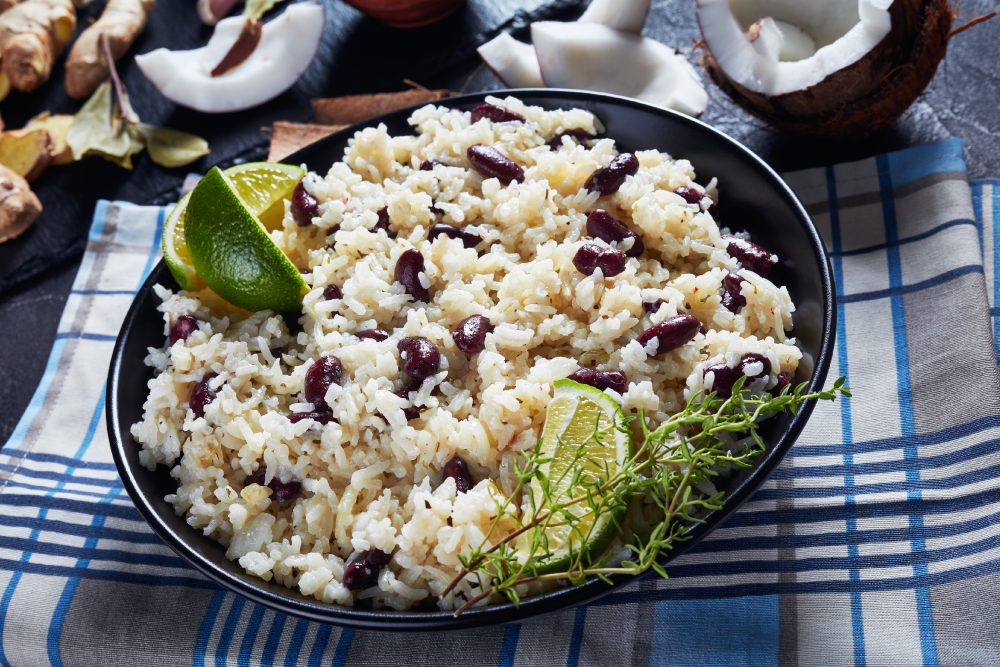 Ingredients:
2 cups of coconut milk
3½ cups water
1½ teaspoon of salt
½ teaspoon of thyme leaves
½ teaspoon mashed garlic
2 tablespoons of olive oil, divided
1 teaspoon of finely chopped cilantro
12 pitted olives cut into halves (optional)
1 pinch of oregano
3 cups of boiled green pigeon peas
½ cup of tomato sauce
4 cups of rice
Directions:
Pour the rice and simmer over medium heat, stirring regularly and removing as much as you can of the rice that sticks to the bottom. When all the water has evaporated cover with a tight-fitting lid and simmer over very low heat. Wait 15 minutes, uncover stir in the remaining oil. Move the rice from the bottom to the top so it cooks uniformly. Cover again and simmer another 5 minutes.
Heat 1 tablespoon of oil in an iron pot and add the cilantro, garlic, olives, thyme, oregano and, salt and cook and stir for a minute. Add the peas, also while stirring. Once well heated, add water and coconut milk and bring to a boil.
Finally mix the cooked rice with coconut and spices. The rice should be firm but tender inside. If necessary, cover and leave another 5 minutes on very low heat.
Visit the Monthly Flavor section to learn about other delicious recipes from many Bahia Principe destinations.