Mexican fast-food with a twist, traditional and regional, right by the sea. That is the experience you will live when trying out the Beach Food Truck at recently renovated Bahia Principe Grand Tulum.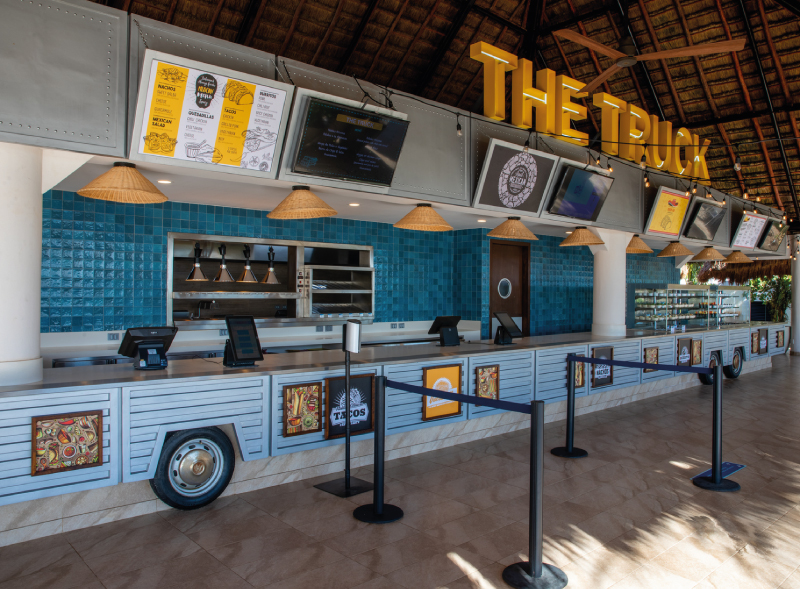 The color of the ocean used as inspiration in its forms and reflections, and its fruits reflected in the textures and colors. All served in a traditional market-style setting with interior design elements that pay homage to the deep sea. Try the menu available at the Beach Food Truck during your days at Bahia Principe Grand Tulum.
Just as the name suggests, this new concept is born from recent trends in the restaurant industry. When thinking about food and truck, for many out there it was easy to think of an ice cream truck. As of recent years, however, food trucks have gained popularity, fast becoming respectable venues for aspiring chefs to launch careers, new concepts, unique cooking styles, and menus.
Being able to buy food from a truck is nothing new. Pizza trucks have existed in Provence, France, since the 1960s, and the Cantines have been available in Quebec, Canada for quite a while. American-styled food truck rallies and food truck parks have also grown in popularity, both in the USA and outside. For example, since 2014 Belgium holds the 3-day Brussels Food Truck Festival each year in May, the largest in Europe. In countries like Brazil, Australia, South Korea, and Hong Kong this trend is also very popular.
Other restaurants you can also enjoy when visiting Bahia Principe Grand Tulum are the main buffet Yucatan Restaurant, La Gran Tortuga Grill, Thali Indian Restaurant, Tequila Mexican Restaurant, Don Pablo Gourmet Restaurant, and others at the nearby hotels within the Bahia Principe Riviera Maya.
Be sure to tag your vacation posts on social media with #VacationAsYouAre, and don't forget to follow us on Instagram and Facebook.