Dragon fruit, durian fruit, rambutans… are all part of the lesser-known, yet most exotic, tropical fruits. But what are tropical fruits? If we were to look around the internet it all comes to the weather they are grown in, typically being hot and humid. The Caribbean and Mexico, just to name our favorite, are part of the roster of countries or regions where fruits of amazing flavors are cultivated.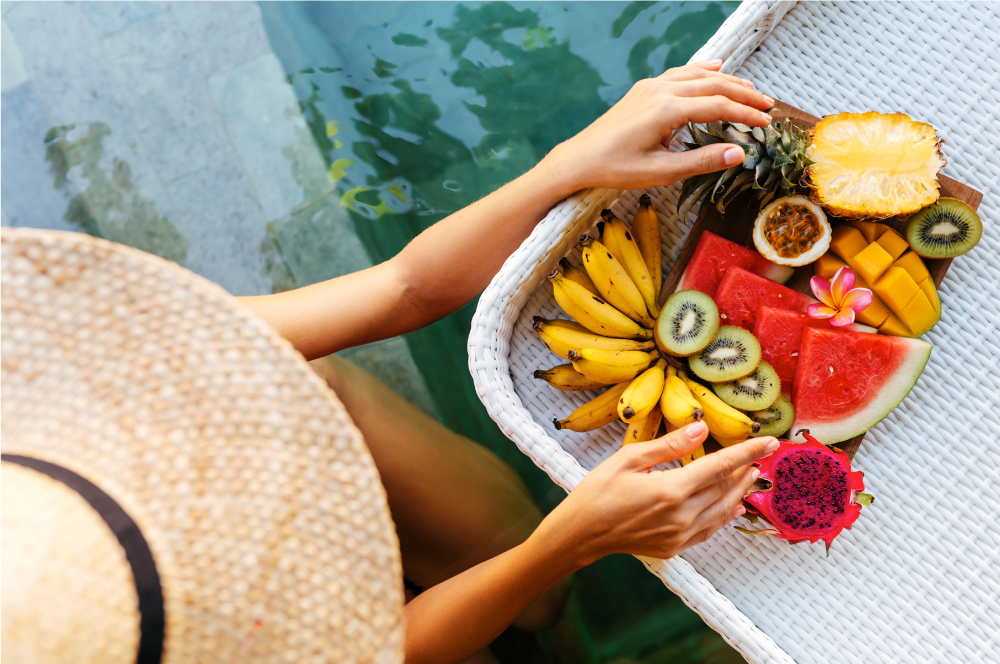 Tropical fruits can be much more than a snack or a dessert, often complementing a dish in a nice and natural way, enhancing the flavor of the main ingredients, or adding flair to the combination of flavors.
Here are four different ways in which these sweets from nature can be used.
Parfaits and breakfasts.
Add color to your overnight oatmeal and avoid other sugars by adding dices of dragon fruit, mango, or papaya. Add cinnamon to enhance the flavors. You will be trying a different combination each day!
Your flavored yogurt can also be enhanced with slices of the actual fruit, such as bananas or pineapples.
For a lighter breakfast, nothing beats a bowl of fresh fruits with granola and chia seeds. Add honey if you want to step up the sweetness.
Sweet and sour.
Veggie lovers can add chopped mango to their tofu recipes and meat enthusiast will find a new favorite in the relationship pineapple and pork can have.
Whether it is fish or shrimp, you can add a wonderful contrast to your fresh ceviche by adding mango or kiwi.
Go wild with rice and serve it with diced chicken thighs cooked with cashew nuts and pineapple.
Salsas and glazes.
Sauces can be as easy or as intricate, but the flavor will never be amiss if you use tropical fruits as your base. Go ahead and make a purée with your favorite fruits, slow cook while adding fresh cilantro, mix in olive oil and a bit of ginger to enhance the flavors.
A passion fruit reduction can be used in many ways, from ham glazes to kebab sauce, and of course, to decorate desserts like cheesecakes, ice cream, or Panna cottas.
Exotic smoothies.
Ideal for mornings, convenient as portable snacks, very easy to make, and with endless combinations that will satisfy all tastes. How are you having your tropical fruits at home or at Bahia Principe Hotels & Resorts? Be sure to tag your vacation posts on social media with #VacationAsYouAre, and don't forget to follow us on Instagram and Facebook