At the Privilege Club, we all share a passion for travel, so it is not difficult for us to talk about it with our members. Our Brand Ambassador, Alejandra Reynoso, is usually one of the two sides in a conversation where the topic of travel often comes up. If you have visited the hotels of the Bahia Principe Riviera Maya complex, then it is highly probable that you already know her. And if you have not yet seen yourself in the Mexican Caribbean, then we leave you her testimony so that you can learn more about this outstanding member of the Privilege team.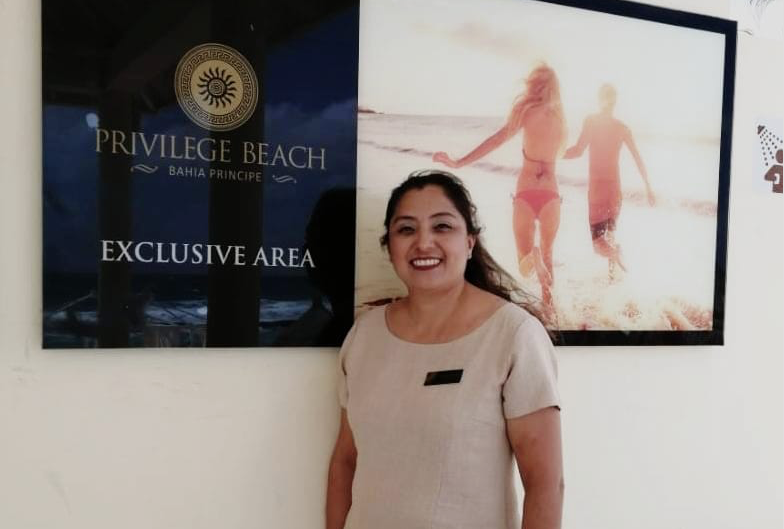 "I am originally from Mexico City, the largest city in the world! It is a unique destination that despite all the chaos caused by people and traffic, the locals are always warm towards nationals and outsiders from distant lands. The best thing about my city is the gastronomic variety that can be found, which ranges from the typical "chilango" snacks to the most exclusive restaurants of incomparable flavor."
Learn more about Mexico City through our Travel Guide, carried out in collaboration with Alejandra Reynoso. We've also compiled a list of popular phrases so you can familiarize yourself with the locals.
"I have been part of the Member Service team for 6 years now being part of the Privilege Concierge in Mexico, and the word that best describes my experience is Learning.
Every time I have the opportunity to interact with a Club member, a unique story is produced. There are members who change my name prior to their arrival at the Bahia Principe Riviera Maya resort, they call me "sir", among others; however, they always agree that putting a face to the emails and telephone conversations is the best part and appreciate any useful information that is given to them during this process. I'm happy to say that they also mention that they love the warmth of us Mexicans.
My colleagues from Privilege Concierge, together with the Member Service Director here in Mexico strive to make members feel pampered and cared for, with the goal of creating the yearn to visit us again. All this can only be achieved by giving the best of service, taking care of all the details that make for an unforgettable stay.
As far as the Riviera Maya is concerned, each and every one of the beaches is beautiful but, at the risk of being a cliché, Tulum is simply magical. That place is full of incredible and fascinating energy.
For my part and what entails my travel plans, my children and I would love to take a trip to Canada. It is impossible not to want it after meeting so many people from the country. Among the cities in our bucket list, we would probably go to Montreal or Quebec or even Toronto. "
We hope that getting to know a little more about Alejandra will inspire you to visit her at the Bahia Principe Riviera Maya resort. She and the rest of the Privilege Concierge team are waiting for you, either in the Privilege Lounge, in the Privilege Beach or … you tell us! Read about other Brand Ambassadors as they reveal more about their day-to-day. Login to your account to review online promotions and plan your next vacation at Bahia Principe.