–Witness the legacy of the Mayan culture with a visit to Chichen Itza and learn the history of this wonder of the modern world.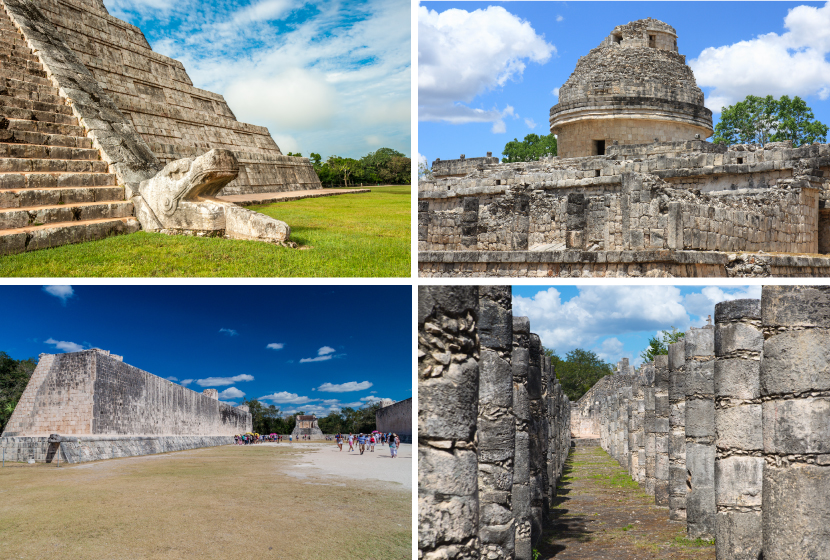 Step outside the hotel into the ancient ruins of Chichen Itza. Roam around its roads and buildings, as a tour guide elaborates on the secrets and legends hidden in its walls, which date back to 540 AD. Beyond main pyramid, or El Castillo as it is called, you will come across the Sacred Cenote, other temples, the Osorio pyramid, Las Monjas, the Great Plaza, along carvings and forests surrounding the site. Additionally there is El Caracol, a 45 feet high Observatory from the 9th century. Walk around the Temple of Warriors and Thousand Columns and check-out replicas traditional Mayan houses.
Did you know? Mayans believed the cenote to be an entrance to the underworld.
At the Great Ball court you can relive the sacred games, part of the Mayan rituals which were carved in its wall –nowadays a manifestation of Mayan art.
The pre-Columbian vestige is a UNESCO World Heritage Site, part of the New Seven Wonders
World and is the second most visited of Mexico's archaeological sites. This has rendered the pyramid unclimbable in order ensure its preservation. At other sites such as Coba you can still climb the pyramid.
The architectural designs of Chichen Itza hide away mystery and magic, especially during the Equinox. For almost an hour and as the sun sets, it is possible to witness the shadow of a slithering snake on the corner of the pyramid –the feathered serpent deity Kukulcan.
People believe that Kukulkan returns to Earth when the shadow is cast upon the pyramid and bless worshippers with good health and a wholesome harvest.
The archeological site of Chichen Itza welcomed over 2.6 million tourists in 2017.
For your next vacation at the Bahia Principe Riviera Maya resort, we highly recommend you add at visit to Chichén Itzá to your vacation itinerary. Experience a firsthand encounter with the Mayan civilization.
If you are looking forward to witnessing the appearance of Kukulcan during your vacation, be sure to schedule your tour between March 20 and March 22. If you can't make it during the spring equinox, then the fall equinox is your next chance, from September 21 and September 23.
For more information about the Privilege Club visit our official page.
For more tips visit Concierge Recommends.