Traveling is all about food. A Spanish tortilla to reminisce Spain, tacos to evoke your stay in Mexico, spicy jerk chicken to relive Jamaica, and there's nothing like a delicious mofongo to remember the Dominican Republic.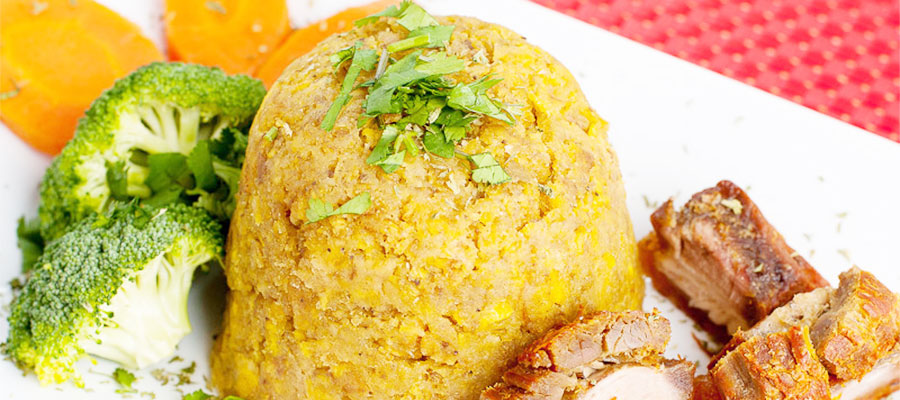 The mofongo is the leading dish of any Dominican style restaurant. The classic version of this tasting and filling plate is essentially made with garlic-flavored mashed plantains and chicharrón (fried pork rind) and although no Dominican will admit to it, the hearty dish originates in Puerto Rico.
Preparation time: 20 mins | Total time 1:50 minutes | Serves: 6 people
INGREDIENTS:
For the broth:
2 tablespoons of oil
1 lb beef bones (any type)
2 cloves garlic, mashed
4 cups of water
1 spring of coriander
1 pinch of oregano
1 onion, halved
3/4 teaspoon salt or to taste
For the mofongo:
1 pound or 0.45 kg of pork rinds (crispy skin)
1 cup of oil
5 green plantains, peeled and sliced 3/4 "(2.5 cm)
2 tablespoons mashed garlic
1.5 teaspoon salt or to taste
DIRECTIONS:
In a hot cauldron pour the oil over medium heat. Add the meat being careful not to brown it. Add the garlic and onion and stir. Finally pour in the water, coriander and the oregano.
Simmer an hour in low heat, topping off the water occasionally to keep the same level.
Season with salt to taste. Strain and removes the solids.
Heat oil over medium heat and fry the plantains till golden brown all over (3- 5 mins). Using a wooden mortar mash the plantain, garlic and pork rinds together.
Shape in tho 6 balls and place in small bowls.
Serve with your favorite garnish and the beef broth on the side.
For more recipes visit the Monthly Flavor section.
For more information of the Privilege Club visit our official website.