-Our most recent Brand Ambassador is Carlos Mass, Privilege Concierge in the Riviera Maya.
–Our most recent Brand Ambassador is Carlos Mass, Privilege Concierge in the Riviera Maya.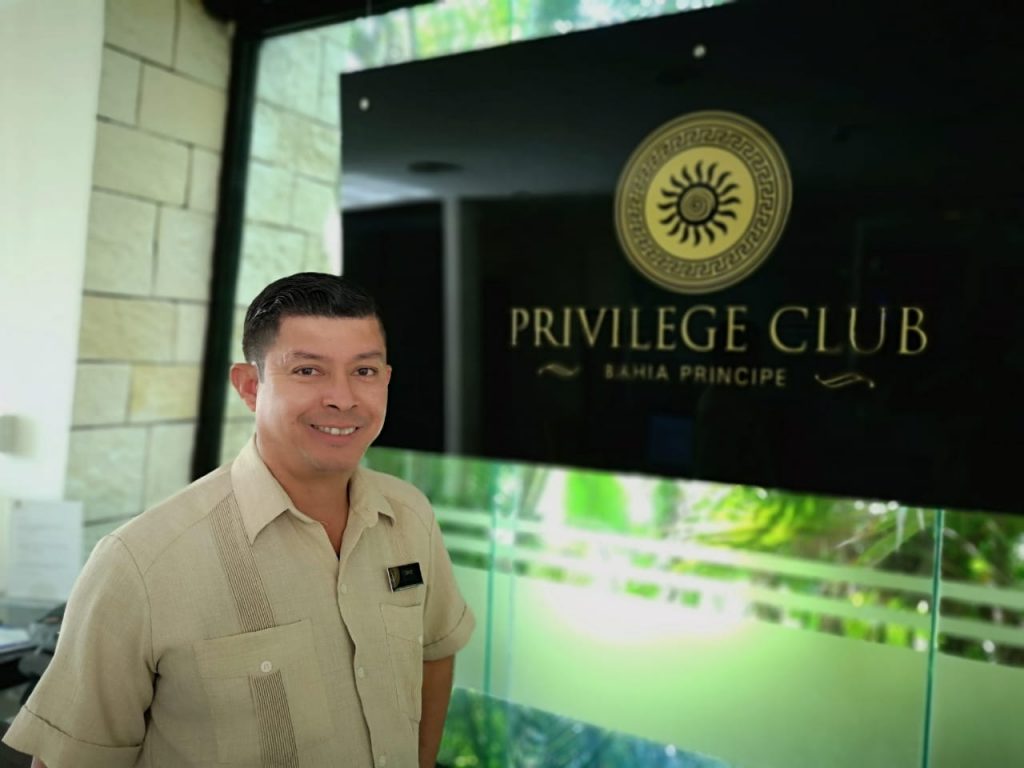 Carlos Mass is originally from Tabasco but after living in Quintana Roo for 12 years, his soul is already Quintanarroense.
If you could choose a word that describes your experience in the Privilege Club, what word would it be?
It does not require much analysis, it would be "Family". I believe the family is very important and my colleagues from the Privilege Club are just that.
How would you describe a typical day as part of the Privilege Concierge team in the Riviera Maya?
One day in the Lounge, begins by having everything ready, so that when our members visit us, we are ready to assist them. Beyond daily guidance and, I like to make recommendations for attractions outside the hotel. This to ensure fond memories about Bahia Principe, and also from my beloved Mexico.
Helping our guests in whatever they require is the most important thing for me. It is simply to provide a quality service.
Do you have any special anecdote that you remember about your career in the Club?
There is a couple who always books Bahia Principe Grand Tulum for a vacation and they really have the time of their life. Every night after having dinner in one of the many restaurants, they approach the Privilege Lounge to give me a goodnight hug and then they retire to their room.
I must confess that I really enjoy the fact that they take the trouble to come and wish us good night.
What element would you highlight to encourage members to visit the hotels in the Bahia Principe Riviera Maya complex?
With all modesty aside, I must highlight the personalized service we provide as a team. The objective is that the members always feel confident to approach us when they need it, and also when they do not.
Tell us about your trips … Have you already thought about the next destination for your holidays?
I intend to travel to Peru soon, specifically Machu Picchu. Afterwards I would like to visit Cuba, maybe for my next vacation.
As a travel recommendation to our guests, if you visit other destinations in Mexico, Tabasco for example, I would recommend a place called Agua Blanca, which is a natural place of great beauty and with large waterfalls of crystal clear water and underwater caves.
For more testimonials visit Brand Ambassador.
For more information about the Privilege Club visit our official page.